Dr. Jeffrey P. Ward
Medical Oncologist & Reviewer
Dr. Jeffrey P. Ward is an innovative medical oncologist at the Alvin J. Siteman Cancer Center at Barnes-Jewish Hospital in St. Louis, where he specializes in the treatment of lung cancer and malignant pleural mesothelioma.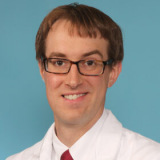 Last modified: December 20, 2022
Quick Facts
Certifications:

Board Certified in Internal Medicine & Medical Oncology

Expertise:

Lung Cancer
Pleural Mesothelioma
Immunotherapy
Checkpoint Inhibitors
About Dr. Ward
Medical oncologist Dr. Jeffrey P. Ward is an associate professor at Washington University School of Medicine. He focuses his research on expanding the use of immunotherapy in treating a wide variety of cancers, including lung cancer and pleural mesothelioma.
Ward treats patients at the Alvin J. Siteman Cancer Center at Barnes-Jewish Hospital in St. Louis. He is part of the multidisciplinary approach to care that has helped make Siteman Cancer Center one of the leaders in the field, acclaimed for turning scientific discoveries into groundbreaking treatments. Ward works closely with surgeons, radiologists and pathologists, ensuring a comprehensive, personalized approach to treatment for each patient.
"There is nothing that can't be done at Siteman," he said. "Patients are not treated just by me, but by a network of physicians. We are a very collaborative group."
Ward is a graduate of State University of New York Upstate Medical University in Syracuse. He has been in St. Louis since 2010, having completed his residency at Barnes-Jewish Hospital and a fellowship at nearby Washington University.
He uses cancer genomics and bioinformatics techniques to find tumor-specific mutations and develop individualized treatments.
Ward is involved in several clinical trials at Siteman Cancer Center, including one involving Tumor Treating Fields, a therapy that was recently approved by the U.S. Food and Drug Administration for the treatment of pleural mesothelioma.
"I think some of the best discoveries we've made in the laboratory haven't yet been translated into patient care, but those days are coming, and faster than they ever did before," he said.
Dr. Ward's Role as Medical Reviewer on Asbestos.com
Ward uses his expertise in mesothelioma in his work as a reviewer for The Mesothelioma Center at Asbestos.com, the nation's most trusted mesothelioma resource.
His experiences on the front line of cancer research help ensure the content on Asbestos.com meets the strictest medical and scientific standards.