Legislation & Litigation
When It Comes to Mesothelioma Cases, Look for Expert Assistance
Fact Checked
Our fact-checking process begins with a thorough review of all sources to ensure they are high quality. Then we cross-check the facts with original medical or scientific reports published by those sources, or we validate the facts with reputable news organizations, medical and scientific experts and other health experts. Each page includes all sources for full transparency.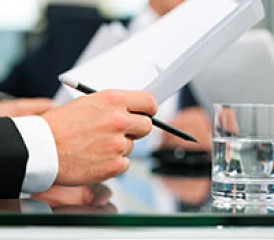 One goal of a mesothelioma attorney is to help you identify witnesses for your case, should you decide to file a claim related to your asbestos exposure.
Witnesses can include friends and acquaintances, including former co-workers. They also may include people you don't know well (or know at all), like doctors and scientists. These expert witnesses can have a significant impact on your case.
It is not unusual to hear testimony from medical and scientific experts in an asbestos litigation case. These experts may offer opinions about your diagnosis, the cause of your injuries and the prognosis of your disease of mesothelioma. Their opinions not only help juries understand your injuries, but also link your injuries to an asbestos manufacturer's products.
Experts are also used before trial to show that plaintiffs satisfy medical criteria rules. Such statutes and court rules set minimum standards for proving that a plaintiff has sufficient injuries to bring a lawsuit. Experts can help provide evidence that an individual's condition satisfies the medical criteria and is severe enough to bring a claim.
What Do Experts Testify About?
Here are some examples of medical and scientific experts and the types of opinions they may provide:
Pathologists examine tissue samples. They often offer opinions on whether asbestosis or cancer is present.

Radiologists give opinions such as whether an individual has had pleural changes. This evidence can affect when you are allowed to file your lawsuit.

Pulmonologists offer opinions about an individual's respiratory health.

Epidemiologists study patterns of diseases. Testimony from an epidemiologist could help demonstrate a relationship between occupational asbestos exposure and diseases such as mesothelioma and lung cancers.

Mineralogists testify about whether products contain asbestos minerals. They may also offer opinions about whether the asbestos minerals are airborne and small enough to be inhaled.

Engineers and industrial hygienists identify whether a building contains asbestos. They may also explain how ventilation systems can disperse asbestos throughout an area.
In addition to medical and scientific evidence, experts also offer opinions on economic damages. Their testimony can help a jury determine the size of an award.
Who Can Offer Expert Testimony?
Court rules determine whether a particular expert's testimony will be allowed. In order to offer an opinion, an expert must first answer questions about his or qualifications (e.g., education, experience, and knowledge).
A variety of expert witnesses may testify in single case. In 2006, a San Francisco jury awarded $5.9 million to Robert Johnsen, a 74-year old business executive. Between 1956 and 1970, Mr. Johnsen was exposed to asbestos-containing drywall products while remodeling six homes for himself and relatives. A number of experts testified on his behalf, including a pulmonologist, a physician, a pathologist, a cellular biologist, an industrial hygienist and an economist.
Defendants also use expert witnesses. In fact, the defense in Mr. Johnsen's case also presented a pulmonologist, an industrial hygienist, and a pathologist. Defendants often use expert testimony to cast doubt on the plaintiff's expert witnesses. That's why plaintiffs and defendants often use experts in similar fields.
Defendants may also try to challenge an expert witness's qualifications or the methods they use. For example, the Illinois Central Railroad Company recently tried to prevent testimony by two physicians in a lawsuit filed by two employees. Warren McElroy and Gary Neff claimed that they were exposed to asbestos at work and developed asbestos-related lung diseases. The Railroad Company argued that the physicians should not testify because the methodology they used to make their findings was flawed. According to the company, the physicians should have submitted their X-Ray readings to a blind study by other experts.
A federal court in Illinois disagreed with the company and rejected the challenge. The court found that the physicians' methodology (e.g., placing the X-rays on a screen and reading them) is the common method of reading X-rays. The court also noted that any challenges to the reliability of the doctors' findings could be made during cross-examination. There was no need to prevent their testimony. A trial is scheduled to take place later this month.
A California court, however, recently agreed to exclude expert testimony by an industrial hygienist. Linda Fontes filed a lawsuit alleging that she suffered pleural mesothelioma due to secondary asbestos exposure. She claimed that she was exposed to asbestos fibers that got on her husband's clothes while working at a bakery.
The expert's testimony was excluded because his knowledge was limited to Naval and manufacturing uses of asbestos. As a result, he could not offer an opinion about the presence of asbestos at the bakery.
How Do I Find an Expert Witness?
An experienced mesothelioma attorney can identify expert witnesses for your case. These attorneys routinely work with knowledgeable experts. These attorneys are also familiar with important medical and scientific issues. They use this knowledge to effectively question your experts as well as the defense's experts.
Experienced mesothelioma attorneys are also familiar with prominent defense experts who frequently work for asbestos manufacturers. Knowledgeable mesothelioma attorneys highlight your experts' strengths and the defense experts' weaknesses for the jury. Through skillful questioning, they help the jury connect the dots between the defendant's conduct and your injuries.
Get Financial Assistance
Access Trust Funds, Grants & Compensation for Mesothelioma