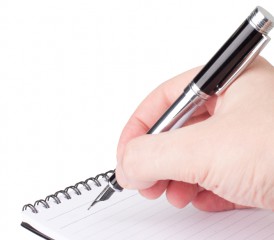 Whether you've just been diagnosed or are enduring an ongoing battle with mesothelioma, we know dealing with doctors can be overwhelming. We've compiled a list of useful tips that will help you during those doctor visits when you feel like you are sinking in a pool of medical information.
Here are 6 tips to feel better during your treatment:
Take someone with you Seems like the simplest thing to do, but it can be hard to ask someone to accompany you if you don't want to burden someone else. Taking someone with you ensures that you have someone there not only for moral and emotional support, but to help you remember all the topics your doctor has covered. They can also make sure you didn't forget to ask any questions and help you get to and from the appointment if you aren't feeling well.

Don't be afraid to take notes We know that when you are receiving a diagnosis, your mind is full of thoughts or you may even feel in a state of shock. Trying to remember every little thing your doctor discusses with you will be impossible to do, unless you take notes. Taking notes is a great way to refresh your memory on the subjects your doctor has gone over that may have slipped your mind. Taking someone with you to take the notes is especially helpful, that way you can focus on what the doctor says while your friend or loved one takes detailed notes. Asking for helpful handouts from the doctor is a good idea, too.

Consider taping your appointments If taking notes isn't something you feel you can manage, ask your doctor if it's alright for you to tape or video your appointment for personal use only. This will be a great resource for you to reflect back on when you have questions about what was discussed regarding diagnosis and treatment options.

We trust these quick and easy tips will be of assistance to you when dealing with your doctors and a mesothelioma diagnosis. Hopefully these tips will help ease the feeling of medical information overload and make it a more manageable mission.

Get a Free Mesothelioma Guide

Free information about mesothelioma, books, wristbands & more for patients and caregivers.