Legislation & Litigation
California Court Holds Manufacturers Not Strictly Liable for Injuries from 3rd Party Asbestos Products
Fact Checked
Our fact-checking process begins with a thorough review of all sources to ensure they are high quality. Then we cross-check the facts with original medical or scientific reports published by those sources, or we validate the facts with reputable news organizations, medical and scientific experts and other health experts. Each page includes all sources for full transparency.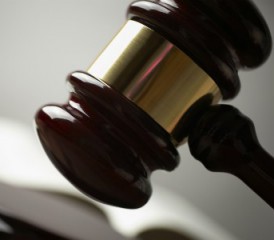 The California Supreme Court last week unanimously held that two manufacturers of valves and pumps used on Navy warships are not liable for the wrongful death of a Vietnam War veteran. Specifically, the manufacturers are not strictly liable for injuries caused by the third-party asbestos products used in their pumps and valves.
Patrick O'Neil was exposed to airborne asbestos fibers while serving on the USS Oriskany during the 1960s. In 2004, he was diagnosed with mesothelioma. The aggressive cancer claimed his life the following year at age 62, and his family filed a wrongful death lawsuit against several companies that allegedly supplied the Navy with asbestos-containing products.
Defendants included the Crane Co. and Warren Pumps, LLC.
During World War II, Crane made valves and Warren made pumps for Navy warships' steam propulsion systems. Their products could be made without asbestos. However, the defendants manufactured the parts according to strict Navy specifications.
These military specifications required the use of asbestos-containing gaskets and insulation to withstand the high heat and pressure produced by the propulsion systems. Crane and Warren did not make the gaskets and insulation.
The asbestos-laced parts were removed from the valves and pumps and replaced during routine ship maintenance. However, the Navy failed to warn the seaman who carried out the maintenance about the asbestos dangers. It also failed to advise them to take other safety measures like wearing respirators.
O'Neil's family alleged that he was exposed to asbestos fibers during equipment repairs in the Oriskany's engine and boiler rooms. According to the court's opinion, there was no evidence that O'Neil was exposed to asbestos products made by the defendants.
All of the original asbestos-containing gaskets and insulation had been removed from the defendants' valves and pumps before Lt. O'Neil served on the Oriskany. Also, there was no dispute that the Navy purchased asbestos-laced replacement parts from other companies.
But under plaintiffs' argument, it didn't matter whether the asbestos came from the defendants or another source. The plaintiffs argued that the defendants should have foreseen that their products would be used with asbestos-containing materials. The O'Neil family also argued that the defendants should have warned about asbestos dangers and should be held strictly liable the Lieutenant's death.
California's Supreme Court disagreed.
Court Refuses to Extend Strict Liability Doctrine
California normally holds manufacturers strictly liable for injuries caused by their failure to warn about known hazards that exist at the time their products are manufactured and distributed. This means that defendants are automatically responsible in these instances and plaintiffs do not need to prove negligence (which is generally harder to prove).
In this case, the defendants arguably should have known and warned about asbestos dangers. The Navy knew about links between airborne asbestos fibers and lung diseases as early as the 1920s. Scientists had also studied the effects of asbestos exposure well into the 1960s when Lt. O'Neil was exposed.
But there is a key difference between this case and other strict liability cases. The difference is who manufactured the dangerous product. Here, the defendants were called to account for products manufactured by other companies.
The court has long held that manufacturers have a duty to warn about their own hazardous products. But it has never extended that duty to other manufacturers' products. The court refused to extend that duty in this case.
In the court's opinion, holding a manufacturer strictly liable for harm caused by another manufacturer's product could "easily lead to absurd results."
The court predicted that imposing a duty to warn about another manufacturer's product defects could lead to requiring saw makers to warn about cutting asbestos-laced insulation. In other words, the court would stop short of requiring manufacturers to warn about "all foreseeable harms that might occur [near] their products."
Court Leaves Door Open
The court's opinion also acknowledged two possible exceptions to its ruling.
Under the first exception, a manufacturer might be held strictly liable if its own product "contributed substantially to the harm." Under the second exception, a manufacturer might be strictly liable if it "participated substantially in creating a harmful combined use" with another product.
For instance, the case against the defendants' might have been stronger if its products had only worked with asbestos component parts. Also, the defendants might have lost if they had required or specified the use of asbestos-containing replacement parts with their valves and pumps.
These exceptions are in important because they could impact future cases. In particular, the court's exceptions could leave the door open for a different outcome if a future defendant requires the use of an asbestos-containing part to make its product work.
Get Financial Assistance
Access Trust Funds, Grants & Compensation for Mesothelioma