Legislation & Litigation
Heroes Are Why 9/11 Compensation Fund Should Cover Claims
Fact Checked
Our fact-checking process begins with a thorough review of all sources to ensure they are high quality. Then we cross-check the facts with original medical or scientific reports published by those sources, or we validate the facts with reputable news organizations, medical and scientific experts and other health experts. Each page includes all sources for full transparency.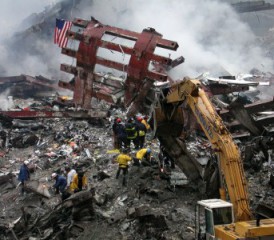 A few months ago, we told you about the 9/11 Victim Compensation Fund (VCF). The VCF compensates eligible first responders, volunteers and others who worked, lived or went to school at 9/11 crash sites.
Many of these heroes have developed serious illnesses from exposure to toxic dust at the sites, including tons of asbestos.
Heroes include Deborah Reeve, a 17-year veteran of the Fire Department of New York who worked as paramedic at the World Trade Center site. She was the first 9/11 responder to die from mesothelioma.
Although it usually takes decades to diagnose mesothelioma, Reeve was diagnosed in 2004, less than three years after 9/11. She died from the disease in 2006. Doctors trace her illness and death to asbestos exposure at the World Trade Center site.
It's tragic that Reeve suffered so deeply after her heroism. Mesothelioma is a painful and aggressive disease. It also causes extreme emotional and financial strain. People facing these challenges deserve as much support as possible.
At the time, the VCF was not open to first responders. It's disheartening to know that mesothelioma patients like Reeves still aren't eligible to file claims.
The VCF has a list of injuries that are eligible for compensation. Cancers aren't on that list.
Advisory Panel Considers Covering Cancer Claims
Congress has set up a 9/11 advisory panel to recommend which conditions should be covered by the VCF. There have been questions about whether there is enough scientific evidence to link crash site exposure to cancers.
This week, the panel heard testimony from scientific experts. They also heard compelling testimony from first responders who are fighting diseases like lymphoma and blood cancer. Their testimony is supported by recent studies finding increased cancer risk among first responders.
Those who were on the frontlines at the crash sites hope that the testimony and new studies will outweigh critics. Last year, the National Institute for Occupational Safety and Health said there was little evidence to link the toxic cloud to cancer. Others express concern over whether the $2.8 billion can afford to cover cancer claims.
What to Do About Mesothelioma Claims
Potential exposure to asbestos can cause anxiety. Staying informed about your health and claim status can help. Here are a few things anyone who was exposed to toxic 9/11 dust should do:
Review the VCF Injury List: If you are currently sufferingfrom any condition that you believe was caused by 9/11 dust, visit the VCF's website to see if it's already covered. The website also gives information on how to file a claim.
Monitor the VCF Injury List: There are suggestions that the panel is leaning toward covering cancers. We certainly hope so. Remember, if the panel agrees with the first responders, that does not mean that all cancers will be covered. The list of eligible injuries would only be updated to add specific types of cancer.
The list may be updated more than once, so it's a good idea to continue monitoring it. Visit the Fund's website at www.vcf.gov for information on covered injuries.
Prepare for a Future Claim: Remember there is a possibility that the Fund could run out long before a mesothelioma diagnosis. Still, it's a good idea to document your presence at a 9/11 crash site. That way, if you discover a covered condition in future, you and your family will have necessary information to file a claim. Visit the VCF website for more details.
See Your Doctor Regularly: Anyone who was exposed to toxic 9/11 dust should see a doctor regularly. Your doctor can run lung capacity tests and do chest x-rays to monitor your health. It is especially important to see a doctor as soon as possible if you have a persistent cough, chest pain or trouble breathing.
Contact a Patient Advocate: Call 800-815-7924 if you have questions about asbestos exposure or mesothelioma.
Get Financial Assistance
Access Trust Funds, Grants & Compensation for Mesothelioma