Robotic Lung Cancer Surgery: Would You Do This?
Robotic surgery: It sounds like the wave of the future. Except that it is not new at all.
Robotic surgery has been performed in hospitals worldwide for more than a decade. And now comes the time to utilize that technology during lung cancer surgery.
Traditionally, lung cancer resections are done with an open incision or thoracotomy. This incision can be painful because it involves cutting through muscle and spreading the ribs.
According to surgeons, if pain following surgery is not adequately managed, patients may face an increased risk of developing pneumonia. Patients with pneumonia can find it difficult to cough and clear their lungs of secretions.
Robotic surgery is less invasive and more successful, and doctors have reported that their patients recover more quickly. Want to know how it works?
How Robotic Surgery Works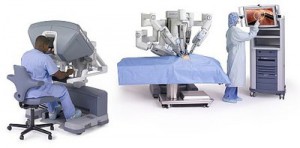 Named da Vinci, the robotic system causes fewer traumas and lets surgeons be much more precise during surgery. Instead of needing to open the entire chest for traditional surgery, four small incisions are made to insert a small scope and thin robotic "arms" that surgeons control from a computer device nearby. Doctors can position and manipulate surgical tools based on their movements.
Patients usually experience less pain and scarring after robotic surgery, as well as shorter hospital stays.
One patient that recently underwent robotic lung cancer surgery in Toronto, Canada, is now cancer-free. Following surgery, the patient was back on his feet by the next day and back home four days after that. Three weeks after surgery, he was back at work.
It almost sounds too good to be true. As always, you have to consult your doctor first about whether you would be eligible for this surgery. Typically, only early stage lung cancer patients are candidates for the robotic procedure.
Advancements in medical technology are happening every day. If this isn't the right procedure for you don't give up hope, you never know what is being created as we speak.