Legislation & Litigation
Walking In Your Shoes: Take Care of Asbestos Cancer Issues Now
Fact Checked
Our fact-checking process begins with a thorough review of all sources to ensure they are high quality. Then we cross-check the facts with original medical or scientific reports published by those sources, or we validate the facts with reputable news organizations, medical and scientific experts and other health experts. Each page includes all sources for full transparency.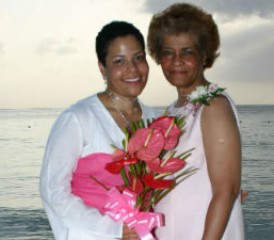 "Karen, you need to get it together. Now."
My mom was really sick, but her voice was very firm. It was as if she had reached through the phone to give me a good shake.
She had found out about the cancerous tumor in her stomach a few weeks earlier. She needed surgery and I grew anxious as the date drew near.
Still, I thought I was putting on a brave face for my mom. But it is hard to hide something from a mother.
Between work and adjusting to life as a new bride, I had a lot to do. But all I really wanted to do was be with my mom who lived several hours away. I guess she could tell how desperately I wanted to drop everything and be at her side.
My mom, Lena, made me realize that I had to make a choice. I could avoid my responsibilities at home and work. Or I could just get them out of the way now.
If dropped the ball now, I would pay the consequences later when she really needed my help. If I took care of my business now, I could take some time off in a few weeks to help her prepare for surgery.
I imagine my mom would have faced a similar choice when it came to deciding whether to file an asbestos legal claim.
Don't Delay Important Business
My mom died from stomach cancer six years ago this week.
At the time, we didn't know that her illness may have been caused by occupational asbestos exposure. If she had known, she would have had to decide whether to sue those responsible for her injuries.
Initially, I think she would have decided not to bother filing a legal claim. Lawyers, including her daughter, would be there to handle her case and answer her questions.
But litigation was new territory for her. Cancer was enough to deal with. She just wanted to heal and be with her family.
I also think she would have changed her mind later. As much as she wanted to focus on health and family, she didn't want financial worries to distract from those priorities.
A couple of weeks after she told me to get it together, I took mom's advice as well as some time off to help her. She also took her own advice and decided to get some of her own affairs out of the way.
She made a financial plan to handle household and medical expenses while she was unable to work.
She did a thorough job planning for the unexpected. But she could only do so much because cancer does a thorough job of drying up resources. We couldn't avoid financial burdens on our own. Once my mom realized this, I think she would have consulted a lawyer about filing a claim.
Things You Should Know
Ideally, my mom would have chosen to talk to an attorney to file a claim soon after her diagnosis. A possible settlement or verdict would have made it easier for my parents to afford her medical expenses.
It also would have made it easier to focus on health care instead of things like bills. If she waited to file, her treatments would have made it harder to muster energy to find a lawyer and provide a deposition.
But better late than never. You just can't wait too long.
If you run out of time to file a legal claim, that's it. You've missed a chance for significant, necessary financial assistance. I think my mom would have realized how filing a claim could help. She would have regretted missing any opportunity to ease the financial burden.
Ultimately, I think she would have taken her own advice and taken care of business now.
Get Financial Assistance
Access Trust Funds, Grants & Compensation for Mesothelioma