Advocacy
8th Annual ADAO Conference Recap: From the Desk of Patient Advocate Missy Miller
Fact Checked
Our fact-checking process begins with a thorough review of all sources to ensure they are high quality. Then we cross-check the facts with original medical or scientific reports published by those sources, or we validate the facts with reputable news organizations, medical and scientific experts and other health experts. Each page includes all sources for full transparency.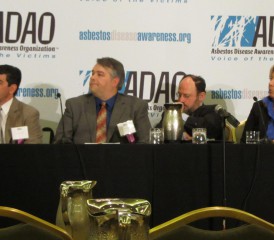 I had the pleasure of going to the Asbestos Disease Awareness Organization's (ADAO) 8th Annual International Asbestos Awareness Conference in Manhattan Beach, California on March 30-April 1. For those of you who are not familiar with ADAO,they were founded by Linda Reinstein and Doug Larkin on April 1, 2004. Both Linda and Doug lost close family members to mesothelioma and made it their life mission to raise awareness against asbestos.
I have to admit this was the first convention that I have attended on asbestos, and I can honestly say I was not disappointed at all. I have been to many other conventions where I felt like I sat in my chair quietly counting down the minutes wishing it would be over. This convention, and noble cause, exceeded any expectations that I had. The speakers ranged from survivors of mesothelioma, family members and friends who lost loved ones, doctors that specialize in the treatment of mesothelioma, environmentalists, Health & Safety officials, to journalists and film makers. I was engaged and present in the moment, soaking up all the knowledge in hopes that I too could help make a difference and raise awareness.
Linda Reinstein started off the convention talking about how far ADAO has come over the last 8 years. She had pictures of the first convention with just a handful of people in attendance; I looked around the room and was in awe to see almost every seat in the banquet room was taken. Everyone in that room had one agenda and one agenda only, "Raise Awareness Against Asbestos". I sat humbly listening to the stories of survivors of mesothelioma. Most of these strong individuals were all told they have 6 months to a year to live. Boy did they have something to prove, and they succeeded in making their doctors believe in miracles. The strength, courage, and drive of the survivors to fight, ask questions, and not take "NO" or "not possible" as an answer, saved their lives.
After the survivors came the families and friends who lost loved ones to mesothelioma. I listened to these brave individuals bare their souls about lost loved ones. They had lost a father, a mother, or a friend, and they eloquently spoke about how they started walks to raise money and awareness about this cause, all without shedding a single tear. They had taken a painful time in their life and made it their strength, to achieve greatness, to make a difference. The more I listened the more I said to myself, if they could do it I could do it. The underlying theme in these great warriors against asbestos was passion. Passion to fight for what they believe is right. They were not going to let their loved one die in vain. They would make sure their loved one's memories live on forever in the stories they shared with their community and political officials.
Many doctors spoke about advances in technology and discovering different ways to help treat mesothelioma.Dr. Daniel Sterman from the University of Pennsylvania Medical Center talked about his team's clinical trials in gene therapy, virotherapy, and other immune based therapies. I was engrossed in the possibility that this scientific revelation as brilliant and advanced as it was, could be such a simple thing.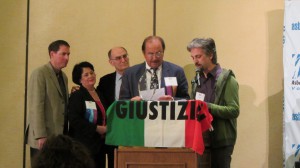 The growing epidemic of asbestos related illnesses spanning our globe was beautifully illustrated by advocates from across the world. The US, UK, Belgium, Italy, Australia, Canada, Brazil, were all represented by speakers who informed us of what asbestos is doing to their country. Honest hard working human beings all over this great Earth were dying or becoming ill. How is it fair that some countries still allow asbestos to be used while other countries had the common sense to ban it? Worse yet, how is asbestos still legal in the US when we are supposed to know better? I was baffled by the ignorance and the low value that is placed on life due to money and greed.
In summary, I learned so much from this jammed packed couple of days, that I feel it has changed me forever. The grace and poise that Linda Reinstein possessed as she spoke made me feel, that I myself, was destined to do great things. Her passion on the subject matter and her selfless devotion to dedicate her life to make a difference for other families that may be affected by asbestos, moved me so much that I found myself questioning am I a productive member in society? So many times we go through our lives day by day, as if all the great problems of the world are not ours to bare. But the truth of the matter is that anyone of us can have our lives affected by asbestos, and a family member of ours taken from us too soon due to the harmful effects of asbestos.
I have always loved my job, but knowing that the information that we provide on our website can and actually does save lives, gave me a sense of peace in my heart. I feel so blessed to work for an organization that cares about these patients and helps them find treatment options and cutting edge doctors who know about this disease and its challenges. I am happy to be able to tell these patients, do not give up. Do not lose hope. If there is an opportunity for salvation we can help get you there.