Why Should Veterans Apply for Mesothelioma Benefits at All?
Guest Author

Apr 19, 2012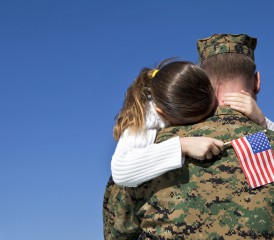 Why should veterans apply for benefits at all? Surprisingly, I get this question more than you might think.
The short answer is an easy one: because you earned them.
I have had many veterans who were diagnosed with an asbestos illness tell me that they don't want to file a VA Disability Claim because there are so many veterans out there who are more deserving of it. You know what? That is just not true.
Receiving a benefit from the VA doesn't mean that someone else will not get his benefits. All of us are equally deserving of the benefits for which we are entitled.
When you are disabled from an injury or disease that stems from your active duty service, you rightly earned every benefit our country offers you in the way of VA benefits.
By joining the military, you committed yourself to serving your country in a profound way. You chose a career in which you sacrificed time with your family. You accepted a job that often doesn't pay much. And you chose a profession that often times put you in harm's way, one that could have gotten you killed, all so that your family and countless other families could sleep soundly at night knowing that you were making sure that no one will harm them.
Having served in the Navy for 24 years, I can tell you that life in the military is hard. Granted, some jobs are clearly easier than others, but we all play a vital role in the military.
Because I am retired Navy and because so many veterans diagnosed with asbestos illnesses are Navy veterans, I will leave you with something that I think every veteran (and every civilian for that matter) should read at least once in their lifetime. It is the short poem that is read at nearly every Navy Retirement Ceremony.
I hope this reminds all of us that even today, our brothers and sisters are out there protecting us. Not a day goes by that someone does not man "The Watch."
The Watch
For twenty years
This sailor has stood the watch
While some of us were in our bunks at night
This sailor stood the watch
While some of us were in school learning our trade
This shipmate stood the watch
Yes, even before some of us were born into this world
This shipmate stood the watch
In those years when the storm clouds of war were seen brewing on the horizon of history
This shipmate stood the watch
Many times he would cast an eye ashore and see his family standing there
Needing his guidance and help
Needing that hand to hold during those hard times
But he still stood the watch
He stood the watch for twenty years
He stood the watch so that we, our families and
Our fellow countrymen could sleep soundly in safety, Each and every night
Knowing that a sailor stood the watch
Today we are here to say
Shipmate… the watch stands relieved
Relieved by those You have trained ,Guided, and Lead
Shipmate you stand relieved. We have the watch…"
"Boatswain… Standby to pipe the side… Shipmate's going Ashore… "
If you would like to speak with the Veterans Assistance Department about VA benefits, the claims process or how to get financial assistance after being diagnosed with mesothelioma or another asbestos-related disease, you can call us at (855)401-5187.