Legislation & Litigation
3 Things Mesothelioma Plaintiffs Should Know About Defendants
Fact Checked
Our fact-checking process begins with a thorough review of all sources to ensure they are high quality. Then we cross-check the facts with original medical or scientific reports published by those sources, or we validate the facts with reputable news organizations, medical and scientific experts and other health experts. Each page includes all sources for full transparency.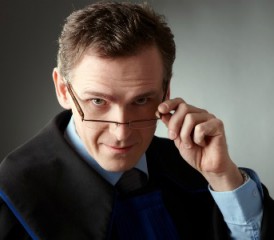 We're wrapping up our series about defense tactics during an asbestos-related lawsuit. I'm sure we'll visit this topic again, because defendants have as many litigation strategies as there are asbestos cases.
If that sounds intimidating, consider that's exactly what defendants want. In fact, intimidating plaintiffs is one of the most effective defense tactics.
I should know. I used to be a defense lawyer.
In reality, defendants probably aren't as intimidating as you think. So before you get discouraged about pursuing an asbestos claim, here are three things you should know about defendants:
1. Defendants Are Usually Willing to Lose Something
For many years, I worked for large law firms that represented even larger corporations. If a client ended up in a courtroom, it was usually at the defendant's table surrounded by a team of high-powered lawyers.
But we didn't necessarily earn our reputations inside the courtroom. More often than not, we were hired to help a defendant stay outside the courtroom. Sometimes that meant settling before trial.
Bottom line: Defendants want to limit their losses as much as possible. They usually realize that litigation will involve some loss for them.
The question is often whether they will just lose legal fees, a settlement amount, or a trial verdict.
2. Defendants Will Settle More Often than Plaintiffs Realize
There are many reasons why a large corporation would prefer paying a settlement — even a large settlement — over losing at trial.
Settlements can make it easier for defendants to manage monetary losses and avoid admitting liability. Over the course of a settlement negotiation, it becomes clearer how much money a plaintiff is willing to accept.
On the other hand, it can be impossible to guess what a jury will do.
Perhaps more importantly, defendants can't keep a trial verdict quiet. Parties who settle usually agree to keep the settlement amount a secret.
Many defendants prefer settlement because they fear that a trial loss will open the door to more lawsuits. A potential claimant who initially hesitated about suing might be encouraged by another plaintiff's victory.
In other words, plaintiffs may not be as intimidated by a defendant who has already lost.
Finally, trials are expensive and can bring unwanted scrutiny to a company, regardless of the outcome. At several hundred dollars an hour per attorney, walking into court with a team of corporate defense lawyers can be pricey.
Plus, few corporations want to deal with the court of public opinion in addition to a jury. That's why some defendants prefer to settle, even for a significant amount, to avoid trial publicity and expenses.
Each case differs, so it's always best to talk to a qualified mesothelioma attorney about your particular claim and chances for settlement.
3. Defendants Often Use Their Best Tactic Outside Court
Over the years, plaintiffs have somehow come under criticism for filing asbestos claims. They are often blamed for the large number of asbestos lawsuits.
Sometimes exercising legal rights seems to carry more stigma than causing asbestos exposure.
Defendants have done a lot to fuel the criticism. They can make it seem as if most asbestos claimants are just greedy, not sick. What better way to dissuade someone with legitimate injuries from filing a claim than to make them feel bad for suing?
Many factors may affect your decision whether to file an asbestos personal injury claim. But intimidation doesn't have to be one of them. Learn more about asbestos personal injury claims and make an informed decision for yourself. Meanwhile, resources available at the Mesothelioma Center can shed more light on the process.
Get Financial Assistance
Access Trust Funds, Grants & Compensation for Mesothelioma