Legislation & Litigation
How Witness Testimony Can Help Asbestos Plaintiffs
Fact Checked
Our fact-checking process begins with a thorough review of all sources to ensure they are high quality. Then we cross-check the facts with original medical or scientific reports published by those sources, or we validate the facts with reputable news organizations, medical and scientific experts and other health experts. Each page includes all sources for full transparency.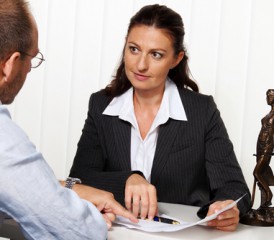 We've been looking at how friends and family can help during the asbestos case process. Perhaps the most hands on way of showing support is by helping an asbestos plaintiff or providing testimony during a deposition or trial.
But before we look at how you can help, it's important to understand what happens at depositions and trials and why they're such an important part of the process.
Why Witness Testimony Is Important in an Asbestos Case
Depositions and asbestos trials have the same purpose: getting witness testimony. If the witness is a plaintiff or his or her relative, friend or co-worker, testimony will focus heavily on identifying the product that caused the asbestos injury.
This involves looking at when and where asbestos exposure occurred. Product identification and related testimony is crucial because it helps the jury decide whether or not defendant caused the plaintiff's injury.
Most of us are familiar with trial testimony. If only on television, we've seen a witness take an oath in front of judge and jury before answering questions from lawyers for both sides.
What you may not know is that witnesses in civil cases like asbestos personal injury lawsuits are usually deposed long before the case reaches trial.
In fact, what a witness says during a deposition can become evidence at trial. In addition, deposition testimony is often mentioned in the court documents that are filed before trial. Depending on the testimony and legal issues, what's said at a deposition can help determine whether a case ever makes it to trial.
Examples of Witness Testimony
There are several instances where friends and family can provide important testimony in an asbestos case.
For instance, in cases of secondary asbestos exposure, a spouse's testimony can give jurors the missing link for asbestos exposure. If a plaintiff was exposed to asbestos fibers on her husband's work clothes, his testimony about his work can help identify the asbestos product that contributed to her injury.
A more common example involves testimony by a co-worker. In a recent a New York wrongful death case, McDonald v. A.C.&S., Inc., the widow of sheet metal worker James McDonald sued Crane Co. James McDonald died from mesothelioma in 2000. His wife alleged that her husband was exposed to asbestos from Crane valves. One of McDonald's former co-workers was deposed in the case.
Crane later filed a motion for summary judgment urging the court to throw the case out before it reached trial. It argued that the plaintiff's evidence did not link the asbestos exposure to its valves.
Crane argued that the co-worker's testimony was speculation, that he could not recall the specific location of Crane valves or the specific dates when he saw McDonald near the valves.
However, the co-worker testified that he and McDonald worked in a boiler room that contained Crane valves. The court ruled that the testimony sufficiently identified the valves, so there was a factual dispute that justified going to trial. A jury would get to decide whether McDonald's asbestos exposure was linked to Crane valves.
How You Can Help
There's little question that strong witnesses are valuable. A steady, confident witness can also help bolster the plaintiff's case and potentially give defendants more incentive to reach a fair settlement.
Helpful testimony, like the co-worker in McDonald's case, can help clear procedural hurdles to get to trial. Likewise, jurors recognize strong witnesses at trial and listen carefully to what they have to say.
Next week, we'll give tips on loved ones can help plaintiffs and themselves be good witnesses.
Get Financial Assistance
Access Trust Funds, Grants & Compensation for Mesothelioma