Legislation & Litigation
What to Know about Giving a Deposition in a Loved One's Asbestos Lawsuit
Fact Checked
Our fact-checking process begins with a thorough review of all sources to ensure they are high quality. Then we cross-check the facts with original medical or scientific reports published by those sources, or we validate the facts with reputable news organizations, medical and scientific experts and other health experts. Each page includes all sources for full transparency.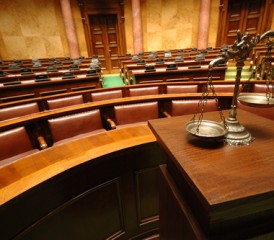 If your friend, co-worker or family member has filed an asbestos personal injury lawsuit, you may end up being called upon to be a witness in the case. This generally happens if you can provide facts about how a loved one has been exposed to asbestos.
Plaintiffs rely on these types of facts to prove whether they're entitled to compensation and, if so, how much they should receive. One important factor is not to rely on memory. You must be prepared for your testimony with the most accurate information.
Below are some details that you might have information on that could be important to an asbestos case:
When and where asbestos exposure occurred (e.g., dates and places of employment);
Who may be responsible (e.g., names of former employers or manufacturers of asbestos-containing equipment); or
How asbestos injuries have impacted the plaintiff's life (e.g., caregiving assistance required by the plaintiff).
Plaintiffs rely on these types of facts to prove whether they're entitled to compensation and, if so, how much they should receive.
So there are few things you should keep in mind before you're deposed.
Preparing to Testify
As we explained in last week's post, deposition testimony affects other stages of the case process. What is said in a deposition can affect whether a case gets dismissed, settles or makes it to trial.
It's important to tell the truth and get your testimony right early. Here are some tips to help:
Know What to Expect: Depositions happen outside of courtrooms, usually in law firm or hotel conference room. The judge isn't there. There is no jury. But the room is filled with teams of defense lawyers. Since there will likely be multiple defendants, each with their own legal teams, the setting can be intimidating. Some people find depositions more intimidating than testifying at a trial. Fortunately, the plaintiff's asbestos attorneys will also be there. They'll also let you know what to expect and prepare you.
Prepare, Prepare, Prepare: I can't overemphasize the importance of preparation. A single deposition can last days or weeks. You'll often have to answer the same question in different ways over and over again. But you can handle it if you're well-prepared. Plaintiff's attorneys prepare you in advance by questioning you. They pretend they are defense attorneys and question you. Sometimes over and over again. This requires a time commitment. But it's worth it. Prepared witnesses can do a better job keeping their cool and answering questions accurately during the deposition.
Be Honest and Accurate: If you misstate or incorrectly remember something, defense attorneys will likely pick up on it. If it's a big enough error, they'll also bring it to the judge or jury's attention. Even an honest mistake can ruin a witness's credibility. That's why it's important to take preparation seriously.
Don't Rely on Memory
Many years ago, I knew a trustworthy woman who was set to testify in a personal injury lawsuit filed by a relative. Her relative had been injured in a car accident.
The defendants argued that he had been drinking and contributed to the accident. The woman was going to testify that she had seen her relative sober at a family barbeque before the accident.
For some reason, she and the attorney never scheduled time to prepare. She was a confident, trustworthy witness, so perhaps they didn't think it was necessary.
But had they spent some more time talking about the case, they would have realized that she had confused the date. The barbeque happened after the accident. Fortunately, she realize her mistake before the trial and told the attorney. He did not call her as a witness.
It was an honest mistake. But imagine the potential damage if she had testified at trial or during a deposition. With enough questions, the defense could uncovered the mistake, ruining her credibility and perhaps the plaintiff's case.
You want to avoid a similar situation, so do what's necessary to give accurate testimony. This includes being honest and taking the time to repeatedly review your testimony. Tell your loved one's lawyer as soon as possible if you've made a mistake.
Do you have any questions you would like answered about asbestos and mesothelioma litigation? Let me know in the comments below or on Facebook.
Get Financial Assistance
Access Trust Funds, Grants & Compensation for Mesothelioma