Awareness & Research
Video Journey of an Asbestos Fiber
Fact Checked
Our fact-checking process begins with a thorough review of all sources to ensure they are high quality. Then we cross-check the facts with original medical or scientific reports published by those sources, or we validate the facts with reputable news organizations, medical and scientific experts and other health experts. Each page includes all sources for full transparency.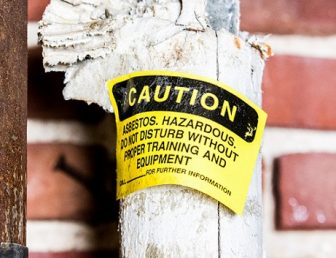 One of the most basic things to understand about asbestos-related diseases is what causes them. That cause is almost always through the inhalation of ingestion of asbestos. Specifically, of tiny — even microscopic — asbestos fibers. In the videos below, we're going to share how an asbestos fiber can go from an asbestos product to the air and to the body. Once lauded for its versatility and heat-resistance properties, friable asbestos has now been linked to asbestos-related cancers, such as mesothelioma. Many blue-collar workers and U.S. Navy personnel were exposed to asbestos while on the job or in the service.
Transcript:
"We all know that asbestos is toxic, but many people wonder how asbestos harms the human body. The truth is, scientists are still trying to figure out exactly how asbestos causes harm — but researchers do have several theories, and all involve heavy exposure that leads to genetic damage.
Workplace Exposure
Heavy exposure to asbestos most commonly occurs in a workplace setting on a daily basis for several years or decades. Construction and industrial worksites like shipyards and factories are the most common sites where asbestos was used."
Inhaling or Digesting Asbestos Fibers
Asbestos fibers can become airborne and be inhaled or ingested by unsuspecting workers on the job. Job sites that had a high risk of asbestos exposure were shipyards, schools, power plants, metal works, chemical plants, and oil refineries – among many others.
Transcript:
"Inhalation/Ingestion
Working around asbestos daily gave workers many opportunities to inhale or ingest the mineral's microscopic fibers. These fibers are so small that they are easily inhaled into the lungs or swallowed into the digestive system. Inhalation is far more common than ingestion, which leads to more cases of lung disease. "
What Happens With the Fiber in the Body
In this video we speak to what happens once you have inhaled or ingested the asbestos fiber and it is in your body. We show the possible paths the fibers could take and what happens as a result. Please keep in mind that the size of the fiber in the video is not true to size, they have been enlarged for the visual purposes of this video.
Transcript:
"Once inhaled, asbestos fibers travel to the lungs and many become lodged in lung tissue. Some of these lodged fibers can travel from inside the lung to the outside lining of the lungs, and this is where mesothelioma cancer forms. Other fibers might travel to distant parts of the body via the blood stream or lymph system, but scientists are still trying to prove this theory."
The Biological Reaction to the Fibers
Next we discuss the biological reaction that occurs when asbestos fibers are lodged in the lungs. The body tries to fight it off naturally but if it fails, the pictured chain of events occurs. Please keep in mind that the size of the asbestos fibers are not true to size, they have been enlarged for the visual purposes of this video.
Transcript:
"After the asbestos fibers lodge in human tissue, the immune system sends a special cell known as a macrophage that attempts to wrap around and remove the fiber. But unfortunately, not all macrophages are successful in removing the fibers, which causes the fibers build up over time. The chemical reactions that occur during this process result in compounds like Reactive Oxygen Species, which damage DNA and lead to scar tissue or fluid buildup."
How Genetic Damage Occurs
Lastly we discuss how the genetic damage caused be asbestos fibers lodging in the lungs can change human DNA and lead to mesothelioma cancer. The only way to prevent this is to avoid any asbestos exposure at all.
Transcript:
"This genetic damage can change human DNA in ways that cause cells to divide uncontrollably. Instead of dying a natural cell death, these cells continue to replicate and eventually form tumors in the lung or lining of the lung.
Avoiding asbestos is the best prevention method, but workers who were previously exposed should avoid cigarettes and get regular health screenings to check for signs of disease."