Racing to Raise Awareness, Karen Selby Supports Mesothelioma Patients in Countless Ways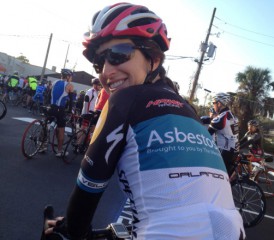 You may know her as Karen Selby, patient advocate and registered nurse here at The Mesothelioma Center, but once she straps on a helmet and hops on her bike, you better get out of her way.
Karen is a member of the oldest racing team here in Central Florida, the Orlando Velo Cycling Team, founded in 1989. The team has competed in races throughout the southeast United States and has won many state championships. Outside the United States, Orlando Velo has competed in races in Belgium, Martinique, Trinidad, Dominican Republic and Puerto Rico.
Karen has been a member of Orlando Velo for three years, previously as the only woman on the team. Now she's one of two women on a team of 14 cyclists. She's not just there for show either, Karen placed second just a few weeks ago in a women's road race combined with 50-plus men.
Karen started cycling in Baltimore in 1986 because her roommate was into triathlons and she decided to give it a shot. Little did she know how much she would love it, so much so that she joined a team in Baltimore.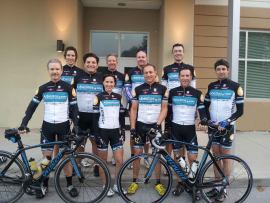 When she moved down to Florida she was too busy to continue, and took a brief hiatus; but cycling found its way back into her life. After a running injury occurred, Karen went back to her bike and found Orlando Velo.
Now she competes almost every weekend, and commonly multiple races a weekend. Some of these races are purely competitive; some are a ride for charity. As a sponsor of Orlando Velo, The Mesothelioma Center is hoping to raise awareness about the rare asbestos-related cancer. According to Karen, "If nothing else, it definitely sparks conversation."
Awareness can grow anytime, anywhere. Karen is proof of that. At a bike race is the last place you would think a conversation about mesothelioma would occur, but it does. Thankfully, Karen is open to speaking to anyone about the topic and is an experienced patient advocate that communicates with mesothelioma patients and their loved ones on a daily basis.
What about you? Are you open to a conversation about mesothelioma with a stranger? How are you raising awareness?