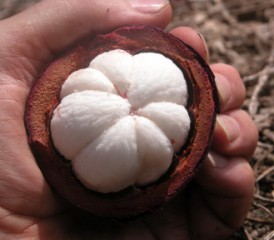 It seems like every few months, there's a new "superfood" gaining recognition in the health-and-wellness world. Interestingly enough, these foods are often common parts of other international cuisines.
Take, for instance, mangosteen, the subject of an April 2013 article in the Journal of Natural Medicines. This certainly isn't the first study to explore the health benefits of the fruit, but Americans' interest in mangosteen has certainly accelerated in the last few years.
The fruit, scientifically known as Garcinia Mangostana, was discovered more than 400 years ago. Since its discovery, other cultures have used it as a natural remedy for infections, diarrhea and urinary disorders; now, we're looking at it as a defense against cancer.
The Journal of Natural Medicines study gave the extract to mice with colon cancer. After exposure to the mangosteen, tumors shrunk by between 50 and 70 percent. Mice who received the mangosteen dose also lived longer than mice that didn't get the treatment.
The antioxidants in mangosteen pulp are highly bioavailable, meaning it's very easy for your body to reap their benefits. While there are several cancer-fighting compounds (known as xanthones) in the fruit, two are especially effective: alpha-mangostin and gamma-mangostin. These two compounds primarily act by stimulating activity of the body's natural killer T-cells (NKTs).