Cancer & Caregiving
Fighting Cancer Without Losing Hope
Fact Checked
Our fact-checking process begins with a thorough review of all sources to ensure they are high quality. Then we cross-check the facts with original medical or scientific reports published by those sources, or we validate the facts with reputable news organizations, medical and scientific experts and other health experts. Each page includes all sources for full transparency.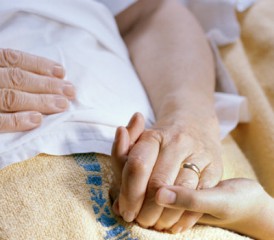 Without exception, every person I have known who suffered from cancer has shown the most incredible courage as they pit their will against a foe trying to take their life.
Regardless of whether their cancer was curable or not, every one of them fought valiantly for their lives as they witnessed the devastation that cancer wreaked on their once healthy body. Despite the physical and emotional pain, they rarely complained.
I have rejoiced with loved ones who have survived cancer, and mourned the loss of those killed by it.
I know I am far from alone.
Cancer strikes millions of people around the world and those diagnosed with this terrible disease are fighting for their lives with equal intensity. The tragedy is that far too many of them are losing the battle.
Surviving cancer is a huge triumph. I can only imagine the joy that cancer survivors must experience when they see and feel their body returning to good health. I cannot imagine what it must be like for those who suffer from a cancer without a cure, and live with the knowledge that they may never experience good health again.
Living in Hope of a Cure
During the two years I cared for my husband Brian, who was diagnosed with mesothelioma, I often wondered how he found the courage to face each day knowing that he was dying. I have come to understand that this was because he never truly believed that he was going to die from this disease. Along with his courage, he lived in the hope that a cure would be found for mesothelioma while he was still around to benefit from it.
Brian focused on the life he was living, rather than thinking about when it might come to an end. When each new symptom of mesothelioma appeared, he accepted it and carried on.
He never wanted to know what symptoms he would expect in the future, and at no time did he seek information about it. He just got on with the business of living.
When Brian did not die within three to nine months as predicted, his hope for survival grew stronger. I clearly remember the day he said to me, "I have proven them wrong, I am still alive, and I am going to beat this thing."
Undoubtedly, Brian's unwavering hope of surviving mesothelioma helped him embrace each day as a gift and to look forward to each tomorrow right up until he died.
Where There Is Life, There Is Hope
Brian often said to me: "Where there is life, there is hope."
He was right. Hope is essential to life, and it is hope that provides us with the will to live.
Thankfully, many cancer patients these days are witnessing their hopes for survival realized. Advancements in medical practices, procedures and medications have resulted in cures for some forms of cancer. Those with incurable cancers, such as mesothelioma, are now surviving for years longer than those who came before them.
Stories of Hope and Survival for Mesothelioma Patients
Mesothelioma patients around the world are finding more reasons to remain positive, thanks to inspirational stories published by the media and on the Internet about mesothelioma victims outliving their life expectancy.
The Wall of Hope on Asbestos.com is a perfect example of this.
Anyone wishing for hope and inspiration will find it in the wonderful stories of survival featured there. These true stories are good reasons to hang in there, and keep hoping for a cure that could be around the corner.
Hope for Caregivers
Sadly, Brian was not offered any operation that may have prolonged his life. I had to accept that he was going to die from his disease.
Unlike him, I actively sought all the information I could find about mesothelioma, including what stages and symptoms Brian might experience as his disease progressed. I needed this knowledge so I could put things into place, and ensure that Brian did not suffer unnecessarily.
Although knowing this information was painful for me, I could not have helped Brian without it.
Living without hope of a future together for the two years of his survival was incredibly hard for me to bear. At that time, I believed I was living with absolutely no hope in my life.
However, after Brian passed, I came to realize that no one can live without hope, including me. Although I had no hope of Brian's survival, I did find other things to hope for.
I had hoped to keep Brian out of pain. I accomplished that, and helped him attain a better quality of life.
I had hoped to make it possible for him to die at home, rather than a hospital. I was able to let him pass in the comfort of his home, surrounded by loved ones.
Now I know that without hope of achieving those things, I could not have remained strong nor found the motivation to realize those goals for Brian.
Get Access to Free Resources for Patients & Loved Ones
Free Mesothelioma Resources