Legislation & Litigation
Asbestos Claims Rise, Insurers Allegedly Delay Payouts
Fact Checked
Our fact-checking process begins with a thorough review of all sources to ensure they are high quality. Then we cross-check the facts with original medical or scientific reports published by those sources, or we validate the facts with reputable news organizations, medical and scientific experts and other health experts. Each page includes all sources for full transparency.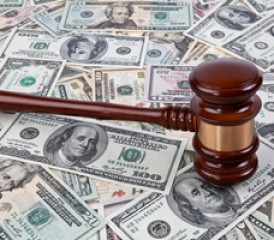 In 2011, Asbestos.com reported that U.S. Engineering and Jackson County, Missouri agreed to pay $10.4 million to the family of a county employee who died from mesothelioma. Nancy Lopez was exposed to asbestos during renovation and demolition projects performed by U.S. Engineering at the Jackson County courthouse where she worked. Her lawsuit made headlines for resulting in the largest asbestos settlement in Missouri history.
The substantial size of the settlement was especially notable because it came over a year after Ms. Lopez's death. Juries tend to award greater compensation to victims who survive trial. Without the possibility of a sympathetic victim offering live testimony, defendants have less incentive to agree to a large settlement. Indeed, asbestos defendants often use litigation tactics to delay the case process so that they can avoid facing a live victim in court.
But Ms. Lopez's case also sheds light on other delays faced by asbestos claimants. At the root of the delay is how insurers pay asbestos claims.
Payment Delays Linked to Insurance 'Floats'
A significant amount of asbestos liabilities are paid using money from insurance companies. According to A.M. Best, U.S. property and casualty insurers have funded 90 percent, or $114 billion, of estimated asbestos and environmental (A&E) liabilities. Since asbestos defendants rely heavily on insurance to satisfy their asbestos liabilities, insurers have substantial input in settlement negotiations.
Most successful asbestos claims actually settle without trial. Asbestos defendants often agree to settlements to limit their litigation costs. But insurers don't necessarily share that incentive. In a statement to Scripps News, former claims executive Robert Burns explained that an insurer might find it "cheaper to litigate than to pay."
Burns managed insurance accounts for Resolute Management Inc., a Berkshire Hathaway company. He recently testified in a pending lawsuit against Resolute and another Berkshire Hathaway company. The lawsuit was filed by several large corporations, including Ford Motor Co. and Estee Lauder, that purchased commercial insurance policies to cover long-term pollution and injury claims linked to their services and products. They allege that Berkshire Hathaway companies delayed paying claims under their policies so that it could invest money paid for premiums longer and get bigger returns on their investments.
The practice involves managing what is known in the insurance industry as a "float." Between the time a company pays its insurance premium and the time it makes a claim under its policy, insurers hold and invest the money paid for premiums. Premiums paid for asbestos and pollution policies stays invested for a long time because it usually takes many years before claims arise. Money held for these policies is known as a long-tail float.
In a 2009 letter to shareholders, Warren Buffet reported that Berkshire Hathaway's float had grown from $16 million in 1967 to $73 billion in 2012. The growth is attributed in part to Berkshire's decision to start buying asbestos and pollution policies from other insurers fifteen years ago. In a 2011 shareholder letter, Buffet explained that long-tail floats allowed the company to profit "just as we would if some party deposited $70.6 billion with us, paid us a fee for holding its money and then let us invest its funds for our own benefit."
But defendants who purchased commercial policies and asbestos claimants complain that this kind of profit can come at their expense. If insurers, like the Berkshire Hathaway companies that have acquired a large portion of asbestos liabilities, find it more profitable to hold on to the float than resolve litigation early, reaching settlements becomes more difficult.
Ms. Lopez's case offers a case study in the potential delays caused by insurance practices.
In June 2010, Zurich American sued U.S. Engineering to avoid covering the contractor's asbestos litigation, including Ms. Lopez's lawsuit. Ms. Lopez died later that year. Resolute also controlled insurers that eventually paid out for her claim. But according to a Scripps News report, Resolute didn't make a single settlement offer before Ms. Lopez died. It took over a year after her death for her family to actually receive the money.
Growing Concerns over Delays as Asbestos Claims Increase
Last month, A.M. Best reported that the property and casualty industry's losses from asbestos and environmental (A&E) claims rose 12 percent in 2012. The longtime insurance rating company says the increase is due, in part, to a rise in asbestos-related lung cancer lawsuits. It also raised its estimate of net ultimate asbestos losses for the domestic property and casualty industry from $75 billion to $85 billion.
With insurance proceeds playing such an important role in asbestos claim payments, there are mounting concerns about the role of insurance in delayed claims payment.
But in an unexpected move, Warren Buffet responded last month to Scripps News coverage of the controversy over Berkshire's long-tail float, and allegations that the company bases claims payment decisions on its financial goals.
Buffet told the Omaha World-Herald: "We take extremely seriously the important duties we assume in this area; duties that are owed to policyholders, to insurers and reinsurers on whose behalf we manage claims, to regulators who oversee our industry, and indeed to our own shareholders, who expect us to operate well above any minimum standards of practice for our business."
Berkshire also issued a press release calling the coverage misleading and inaccurate. It maintains that its insurance companies pay legitimate claims on a timely basis, but also litigate claims considered excessive.
Get Financial Assistance
Access Trust Funds, Grants & Compensation for Mesothelioma