Cancer & Caregiving
Shortness of Breath Leads to Mesothelioma Diagnosis
Fact Checked
Our fact-checking process begins with a thorough review of all sources to ensure they are high quality. Then we cross-check the facts with original medical or scientific reports published by those sources, or we validate the facts with reputable news organizations, medical and scientific experts and other health experts. Each page includes all sources for full transparency.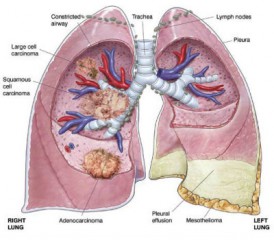 When my husband Brian suddenly began to experience shortness of breath, I was not overly concerned. Believing that he most likely had a chest infection, I sent him off to the doctor expecting he would return home with a prescription for antibiotics.
Little did I know that his condition was far more serious than I could ever have imagined.
Doctors took an X-ray of his chest, and later informed Brian that his breathlessness was caused by a pleural effusion, a collection of fluid between the lung and the chest wall. They later drained this fluid, and sent it to pathology.
With his chest now free of the two liters of fluid that had accumulated there, Brian's breathing returned to normal, and he was greatly relieved. Tragically, his relief did not last long. The pathology report came back, and the news was not good. The fluid contained cancer cells, and the doctor informed Brian that further tests would be necessary to identify the cancer.
The tests were performed shortly after that diagnosis, and we spent several days waiting for the results. This was a terrifying time. We found comfort in the hope that Brian could have an operation to remove the cancer, and improve his chance of survival.
Unfortunately, we were denied this hope. Test results confirmed that Brian had mesothelioma, an incurable cancer caused by the inhalation of asbestos fibers. No operation was offered to extend his life. Instead, he was given just three to nine months to live.
How Could Brian Be Dying When He Looked So Well?
For some weeks following his diagnosis, Brian felt incredibly well. He was able to return to work and carry on with his life as he had always done since he no longer suffered from breathlessness.
During this time, it was almost impossible for me to believe that Brian only had less than nine months to live. I often asked myself, "How can he be dying when he looks and feels so well?"
Without warning, Brian's breathlessness returned much worse than before. He was unable to walk the smallest incline without becoming very distressed.
A return visit to the doctor revealed another pleural effusion was causing Brian's breathlessness. Fortunately, the doctor was able to perform a thoracentesis (drainage of the fluid) in the surgery and Brian was once again able to breathe freely. Before Brian left surgery, the doctor warned him that pleural effusions would most likely become a common occurrence.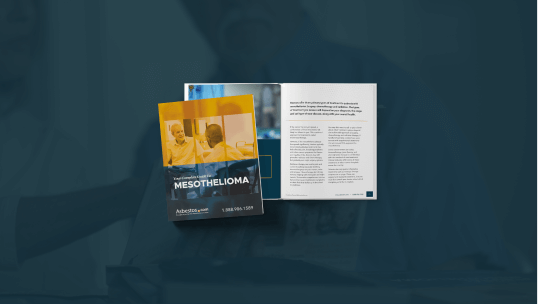 Free Mesothelioma Guide
Receive a 200-page mesothelioma guide overnight. Learn about treatment options and support resources.
Fluid Returned at an Alarming Rate
As predicted, the fluid continued to accumulate in Brian's chest, and he became increasingly breathless. Draining the fluid brought instant relief, but not for long. It continued to accumulate at an alarming rate, and eventually, weekly fluid drains were necessary.
Brian endured a total of 21 thoracentesis procedures before his doctor suggested that a pluerodesis may be helpful in alleviating his condition. The procedure eliminates the pleural space, preventing it from accumulating.
Following an explanation of what this procedure entailed, Brian was told to think it over before deciding to proceed.
Though apprehensive, Brian made the decision to go ahead with the pluerodesis. Once admitted to the hospital, doctors told him there had to be little to no fluid within his pleural cavity before performing the procedure.
Draining the fluid involved inserting a tube attached to a large glass container into Brian's chest. The fluid then drained into the bottle. A nurse measured the level of the fluid in the container daily. Doctors hoped the fluid in his chest would decrease significantly and eventually cease, indicating his pleural cavity was free of fluid.
Instead, a steady flow of fluid continued to make its way from Brian's chest into the glass container. Doctors said that would prevent them from performing the pluerodesis.
That was a huge blow to Brian. The constant buildup of fluid in his chest caused him a great deal of physical and emotional pain, and greatly affected his quality of life. He feared that because a pluerodesis was no longer an option, the fluid in his chest would require weekly draining – a procedure he dreaded.
Fortunately, there was a better solution.
Final Solution: Pleural Catheter
Rather than subject Brian to further thoracentesis procedures, his doctor decided to place a Tunnelled Indwelling Pleural Catheter (TIPC) into Brian's chest, and the district nurse showed Brian how to empty the bag.
Having a permanent tube protruding from his chest was unpleasant for Brian, but it prevented the fluid from building up. He was grateful for that respite. Although his skin around the drainage tube was very tender at first, this eased and Brian grew accustomed to the tube. That allowed him to carry on with life.
However, the one thing that really troubled Brian was the public sight of the bag and the fluid inside. Understanding his distress, I bought some plain black material and fashioned a pouch for the bag. I then attached Velcro to the top of the bag, so it could close around the drainage tube.
This worked very well, and it was easy to remove the pouch when the bag needed to be emptied. Brian could not have been happier with my creation, and I was thankful to have found a solution to something that caused him grief.
There was nothing I wouldn't do for the man I loved.
Get Access to Free Resources for Patients & Loved Ones
Free Mesothelioma Resources