Cancer & Caregiving
Caregiver Wives Find Support Sharing Their Feelings
Fact Checked
Our fact-checking process begins with a thorough review of all sources to ensure they are high quality. Then we cross-check the facts with original medical or scientific reports published by those sources, or we validate the facts with reputable news organizations, medical and scientific experts and other health experts. Each page includes all sources for full transparency.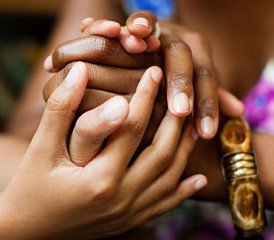 There is a well-known saying: "No one understands more, than someone who has been there." I found truth in that when my husband, Brian, was diagnosed with pleural mesothelioma, and I needed someone to talk about my feelings.
I was on an emotional roller coaster, with the thought of Brian's death always on my mind. Sometimes, I actually felt as if I was dying along with him. My love for our three children was the only force that stopped me from wishing that was true.
Although family and friends urged me to contact them if I needed support, I hesitated calling them when I was feeling low. None had experienced a loved one's terminal illness, and I knew that despite their good intentions, it was impossible for them to understand what I was going through.
Despite my feelings, I put on a brave face for Brian's sake and tried to be everything he needed: wife, nurse, savior. But the time came when I had to accept I could never be his savior. There was nothing I could have done to save his life.
Thoughts of Brian's death and his journey toward it terrified me. I expected it could happen at any time, and worried about my ability to cope with the wave of grief rushing toward me. I desperately needed someone to talk about my fears, someone who could understand. I knew it could only be someone who had walked in my shoes. The trouble was I had no idea who that could be.
A Friend in My Time of Need
Mulling over my predicament one day, I suddenly thought of Barbara. She ran the local post office with her husband, Les, who had been diagnosed with terminal lung cancer some months prior. Though she and I were only passing acquaintances, I hoped she would talk to me about her caregiving experience and how she was coping with her grief.
When I stopped by the post office one day, I told her about Brian's diagnosis. After offering her sympathy, she immediately invited me to see her whenever I needed to talk. Her words were exactly what I had wished to hear, and I clung to them as if they were a life raft.
We met later that week and, for the first time since Brian's diagnosis, I was able to put a voice to the depth of my grief and fears. Knowing that Barbara understood my turmoil brought me relief beyond measure.
Later, she talked about her emotional pain, and I came to realize I was helping her as much as she was helping me.
Over the coming months, Barbara and I met many times. We talked about anything and everything related to our husbands' illnesses, including their medications, side effects and therapies. While our husbands had different types of cancers, their treatment was much the same.
As it turned out, Barbara's husband also suffered some of the same symptoms as Brian and had been for some time. I felt relieved to hear that, because it stopped me from worrying that every new symptom Brian experienced was an indication of his imminent death.
Talking about Brian's death was painful, but it helped me accept it was going to happen. When I mentioned this to Barbara, she told me she felt the same way. We were grateful for the support we brought each other.
Moving Forward Together
When Barbara's beloved husband passed away, my heart ached for her loss and for the loss I would experience in the not-too-distant future. Now that her husband had died, I was not sure if Barbara would be there to help me through it. She had mentioned that following her husband's death, she and her son might relocate nearer to her family.
Thankfully, Barbara did not leave town. She was still able to help me, in an entirely different way.
A few weeks after her husband's funeral, Barbara returned to work at the post office. I had not expected this and was surprised to see her functioning so well, going about her business and interacting with her customers as she had always done.
After all we had been through together, seeing Barbara like this had a profound impact on me. I understood the depth of her grief and knew it was not easy for her to carry on at work without Les.
When we met again, she told me all about her husband's funeral and how she had managed to carry it out according to his wishes, even opening a can of beer and saluting him at his grave.
She also said she and her young son were planning a trip to Las Vegas, a place she and her husband had always wanted to visit. Her courage and determination to continue with life, despite her grief, inspired me. I decided that if she could do it, so could I.
That was the moment I knew I would survive.
Get Access to Free Resources for Patients & Loved Ones
Free Mesothelioma Resources