Legislation & Litigation
Wisconsin Asbestos Law Fuels Trust Reform Controversy
Fact Checked
Our fact-checking process begins with a thorough review of all sources to ensure they are high quality. Then we cross-check the facts with original medical or scientific reports published by those sources, or we validate the facts with reputable news organizations, medical and scientific experts and other health experts. Each page includes all sources for full transparency.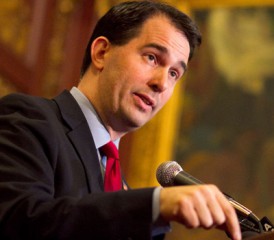 Wisconsin Gov. Scott Walker recently signed into law a controversial measure requiring plaintiffs to disclose asbestos bankruptcy trust claims in order to limit allegations of double-dipping.
Defendants in Wisconsin have long complained that plaintiffs in asbestos cases are not disclosing the sources of their exposure to the deadly mineral so they can win higher settlements from each company.
Walker signed the bill into law on March 31. It also prevents plaintiffs from accessing documents critical to trust claims. The state law, which is similar to pending federal legislation, follows months of ebb and flow in the debate over asbestos bankruptcy trust transparency.
Tort reform advocates seem hopeful the news from Wisconsin will boost their push for disclosure of asbestos trust claims.
FACT Act Stuck in Senate Judiciary Committee
Last year saw a flurry of activity concerning asbestos bankruptcy trusts.
Most notably, the U.S. House of Representatives in November 2013 passed H.R. 982, the Furthering Asbestos Claim Transparency Act. But tort reform advocates' fanfare over their victory seemed to die down after the House passed the bill and immediately referred it to the Senate Judiciary Committee. So they've turned to other strategies.
The House is known for voting on far more legislation than its counterpart in Congress. So much so, that there's no way the Senate is able to take up every bill referred by the House.
Senate committees hold meetings to determine which bills will receive further consideration and potentially make it to the full Senate floor for a vote. Since the Senate Judiciary Committee's April Executive Business Meeting, H.R. 982 hasn't made the cut. At least for now, the Committee is focusing on other legislative priorities.
Garlock Bankruptcy Ruling Used to Continue Fraud Rhetoric
As the FACT Act became less of a priority on Capitol Hill, attention shifted to January's ruling in the Garlock Sealing Technologies bankruptcy estimation proceedings.
Garlock filed for bankruptcy to limit its asbestos liabilities in 2010. The manufacturer has staunchly denied personal injury claims linked to its gasket and sealant materials. So it was no surprise that its bankruptcy estimation proceedings, which began last summer, would receive a lot of attention.
The purpose of the proceedings was to determine the funding amount for Garlock's bankruptcy trust. The process involved getting input from current and future asbestos claimant representatives, as well as Garlock's nonasbestos creditors.
However, in addition to estimating liability, the Garlock estimation trial also became a stage for the trust transparency debate. During the trial, Legal Newsline filed a motion to allow public access to confidential trust information. But the presiding judge, the Honorable George Hodges of the U.S. Bankruptcy Court for the Western District of North Carolina, denied the motion.
That's when Legal Newsline and other tort reform friendly outlets led a campaign suggesting there is a system of hiding trust information and presumably claims fraud.
Based on that news coverage, some might have assumed that Hodges' decision to uphold the confidentiality of the information signaled disagreement with tort reform advocates' fraud allegations.
But that assumption would have been incorrect because Hodges in January reduced Garlock's liability to $125 million – or 90 percent of the previous estimate. He justified his ruling by saying that Garlock's "participation in the tort system was infected by the manipulation of exposure evidence by plaintiffs and their lawyers."
Following that ruling, Garlock sued five plaintiffs' law firms alleging they concealed evidence of their clients' exposure to asbestos from other manufacturers' products in order to increase recoveries from Garlock.
Tort reform advocates wasted no time suggesting these developments proved that rampant fraud exists in the asbestos trust system and therefore, legislation like the FACT Act is needed to protect claimants. Although this is a convenient argument given recent events, it simply doesn't work. There is still a lack of empirical evidence to prove claims of widespread asbestos trust fraud.
And even if there was evidence of rampant fraud, there is no need for the FACT Act. As demonstrated by the Garlock estimation ruling and the subsequent litigation against the five plaintiffs' firms, the bankruptcy court and the litigation system are equipped to uncover and punish any fraud that occurs. Addressing alleged fraud is rightfully a task for the courthouse, not the legislatures.
Is Piecemeal State Transparency Legislation Next?
It's unclear whether the FACT Act will pass both chambers of Congress and earn enough votes to override an inevitable presidential veto. With waning excitement over the Garlock ruling and shrinking chances for further action on the FACT Act this Congressional session, tort-reform advocates are shifting their focus to the states.
Now FACT Act supporters are pointing to Wisconsin as an example of how states can discourage asbestos tort litigation and shrink their dockets. They hope other states will enact their similar versions of the measure. Tort reform advocates like the American Legislative Exchange Council (ALEC) and the U.S. Chamber of Commerce Institute for Legal Reform have had success with the state-by-state approach in the past.
It's up to asbestos victim advocates to slow these efforts. Their progress depends on how bullish politicians are about enacting the measures.
Wisconsin veterans who opposed the legislation decided to back off after the governor's office told them it couldn't be stopped. Although opposing the measure remains a top priority for the veterans, they decided to heed the advice and avoid alienating the governor's office. It remains to be seen how they will proceed.
Veterans' voices are important on this issue because they represent a large portion of asbestos claims. But veterans' advocacy groups deal with other issues in addition to asbestos. So it's understandable that they'd worry about losing political goodwill on other issues.
Fortunately, the leading asbestos victims advocacy groups – who, unlike the veterans, don't have to worry about potentially losing political ground on important nonasbestos related issues – have also been very vocal in opposing the FACT Act and similar measures.
Get Financial Assistance
Access Trust Funds, Grants & Compensation for Mesothelioma