Awareness & Research
Protecting Yourself from Online Cancer Fraud | Online Support Group
Fact Checked
Our fact-checking process begins with a thorough review of all sources to ensure they are high quality. Then we cross-check the facts with original medical or scientific reports published by those sources, or we validate the facts with reputable news organizations, medical and scientific experts and other health experts. Each page includes all sources for full transparency.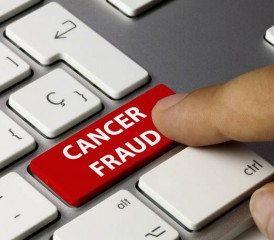 Before the Internet existed, most mesothelioma patients had limited options available to access information about their disease and treatment options.
Oncologists and cancer treatment centers usually provide their patients with educational materials, such as handouts, booklets and pamphlets. Medical journals and reference books in academic libraries always are a great resource of health information.
Local bookstores and public libraries also provide content about all aspects of coping with cancer for patients and their loved ones. People can also directly contact organizations, such as the American Cancer Society and the National Cancer Institute to request information about their cancer.
While many people today still find information about their disease and treatment from these sources, a growing number of newly diagnosed mesothelioma patients are turning to the Web for immediate access to resources.
Pros and Cons of Online Information
There are plenty of websites that offer cancer patients information about their condition, as well as the ability to connect with others in similar circumstances. One of the benefits of these websites is free 24/7 access. If you can't sleep, you can always read about insomnia and chemotherapy online.
If English is not your first language, many cancer websites offer information in multiple languages. Many sites are updated regularly as new cancer information or treatment options become available. This reduces the likelihood of finding outdated information.
Despite these benefits, there are reasons to proceed with caution.
Websites are not regulated, meaning you shouldn't believe everything you read. Anyone can set up a website to promote a product they are selling. Social media sites and blogs are places on the Web where people can share their stories and opinions. There is nothing stopping someone from misrepresenting themselves, their credentials or their intent on social media sites.
Separating the Good from the Bad
Learning to evaluate websites will help you find reliable and credible information and avoid fraudulent or unreliable content.
Start with the letters after the period at the end of a website's URL, also known as the domain extension. These letters generally indicate the type of organization that created the website.
The Internet Assigned Numbers Authority is the authority on domain names and other parameters used on the Internet. The IANA shows several generic domain extensions, some are international, while others are strictly for use in the U.S. For example:
.com: Commercial groups, such as companies.
.edu: Usually reserved for universities, colleges and other educational service organizations.
.net: Only for computers of network providers.
.org: Some nongovernment agencies use this, as well as others that do not fit elsewhere.
.mil: Used by the U.S. Armed Forces.
Websites of universities and the federal government are generally safe and contain updated information that is carefully edited and revised. Some nonprofit sites may appear safe, but always review their 'About Us' or 'Who We Are' sections.
As a general rule, you should always review those sections of all sites for the credentials of the websites' creators, editorial staff and mission statements. Consider the absence of this information a red flag.
Identifying Online Cancer Fraud
Online cancer fraud has developed into a serious problem.
Some companies attempt to prey on cancer patients who are desperate to find a cure when their prognosis is grim. They promote bogus cancer treatments in the form of tonics, pills and creams which they market as natural products.
The U.S. Food and Drug Administration (FDA) must test all pharmaceuticals, medical devices and other medical equipment for effectiveness and safety before granting approval. Some companies use their websites to fraudulently market products or devices not approved to treat cancer.
The FDA published a warning to consumers in 2008 that shows several phrases found on some fraudulent websites, including:
"Treats all forms of cancer"
"Skin cancers disappear"
"Shrinks malignant tumors"
"Non-toxic"
"Doesn't make you sick"
"Avoid painful surgery, radiation, chemotherapy, or other conventional treatments"
Other Tips to Remember
Chat rooms and online bulletin boards are great places to share your story and those of other mesothelioma patients, but remember that what you read is based on one person's experience and not necessarily objective facts or medical research.
It may be tempting to compare your experience with others who post their stories, but everyone has unique experiences, diseases and treatment plans.
Also, remember to check the date of when a website was last revised. You want to look for sites that offer regularly updated content.
Does the online content contradict what your physician told you about your diagnosis or treatment? If so, share that information with your doctor to evaluate its validity and if it applies to you.
Mesothelioma patients and their loved ones often use the Web as a resource to learn about their disease and treatment options. Using these tips and suggestions will better prepare you when searching for credible online information about mesothelioma.