7 Heartwarming Valentine's Day Ideas for a Loved One with Cancer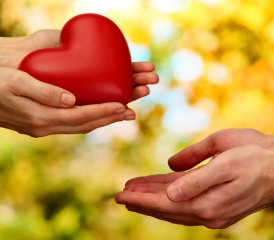 As February 14 rolls around each year, many people — the young and the young at heart — enjoy celebrating with their valentine. In the spirit of the season, Americans spend billions of dollars every year on roses and candy.
Chocolate and other tasty treats are often the gift of choice, but when your loved one is battling a cancer like mesothelioma, you likely will need to consider alternative options.
In the past, you may have enjoyed a fancy dinner out on the town, but now that may no longer be a possibility. Some cancers may limit the types of food a person with the disease can eat, while others make it impossible to leave the house.
It's time to get creative in your gift-giving. Here are some ideas to let your sweetie know how much you care:
Write a love note. Think back to when you first fell in love with your valentine. You may even have passed notes in class! As you recall your time together before cancer, write down your feelings in a Valentine's Day love note. Start with a plain sheet of white paper. You may even want to cut out a heart-shaped card. If you have a red pen or red marker, use that. It doesn't have to be fancy. The words are what matters. You can even cheat a little by plucking a romantic quote from BrainyQuote.

Enjoy breakfast in bed. If your loved one is battling mesothelioma or any type of cancer, they likely won't be able to enjoy a big breakfast in bed. But that shouldn't stop you from surprising them on Valentine's Day with a tray in bed. You can include some fresh fruit and maybe a glass of orange juice. If you can, a single red rose is nice. Again, it doesn't have to be fancy. It's the thought that counts.

Pick up a stuffed animal. The next time you're out of the house, stop by a drugstore or grocery store to pick up a stuffed animal for your valentine. It's a small gesture, but can be a very special gift. The next time they visit their doctor or attend their chemotherapy session, they can bring their new friend along and remember how much you love them. Think about writing a note to include with the stuffed animal, as well.

Rent a movie. Whether it's a romantic chick flick for her, or his favorite action movie, you can rent a movie either from a vending service like Redbox or stream it directly from your television using Netflix or Hulu. You may also want to choose a few old films. The AMC website lists the 50 greatest romantic movies. Classic love stories, such as "Wuthering Heights" and "Gone With the Wind," can really help you relax and celebrate what Valentine's Day is all about.

Listen to love songs. You don't need to go somewhere to celebrate Valentine's Day. You and your valentine can listen to love songs online. If you have a song as a couple, start with that. Visit Billboard.com for a list of the top 50 love songs, including Whitney Houston's "I Will Always Love You" and the Diana Ross and Lionel Richie duet, "Endless Love."

Watch online music videos. Many of your favorite love songs also have music videos that go with them. Just search online for the song title, plus the words 'music video.' Just be ready to laugh and cry as you watch. Music often brings to mind cherished memories from the past.

Give the gift of journaling. You can find a simple journal at many retail stories and drugstores. With this gift, you are giving your loved one much more than a book of empty pages; you are giving them the opportunity to channel their emotions and challenges during their cancer fight. You may want to help guide them by writing a question or idea at the top of each page. You could start with these:

My favorite Valentine's Day memory is
Today, I am feeling
What I wish most for is
Today, I'm thankful for
It's OK if you're not up for any of these ideas. The most important thing is to spend Valentine's Day with the one you love and to let them know how much you love them.
2 Cited Article Sources