Cancer & Caregiving
Caregivers: It's OK to Accept Help from Others
Fact Checked
Our fact-checking process begins with a thorough review of all sources to ensure they are high quality. Then we cross-check the facts with original medical or scientific reports published by those sources, or we validate the facts with reputable news organizations, medical and scientific experts and other health experts. Each page includes all sources for full transparency.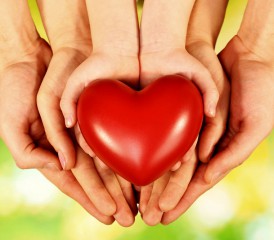 When we're going through a hard time, such as a cancer diagnosis or some emotional turmoil, it's not uncommon for friends and family to say, "Let me know if I can help."
We usually nod and answer yes, but do we ever really take them up on it?
Many of us do not for our own personal reasons, but sometimes we need to reconsider that offer of help because we might not realize how necessary it may be.
A close friend's 17-year-old daughter has cerebral palsy and uses a wheelchair. She's been taking care of her since birth.
It's been a long road up to this point, and a long road remains ahead. She's shared that as much as she loves her daughter, she often feels trapped. There doesn't seem to be a way out from being at the constant demands of a person who is completely dependent.
My friend's world rotates around the needs of her daughter. Everything else comes second, especially her personal needs.
Caregiving for Cancer Patient Is Full-Time Job
It's similar for a person caring for a loved one with cancer.
Keeping up with doctor appointments and treatments is like a full-time job. Then there are the never-ending bad days when a loved one doesn't just need physical support, but also constant emotional support to keep going.
It leaves the caregiver drained, and in essence, imprisoned.
My friend shared that in the early days of her self-imposed confinement, she tried doing it all herself. She was afraid of troubling friends and family by taking up their offers of help.
Now, she sees things differently.
Repeat After Me: 'I Accept Any and All Help'
As a veteran caregiver, she now says, 'I accept any and all help.'
You see, she's learned something. When she removes herself for a short time, she returns with a new attitude. It's a way of managing caregiver stress.
She is reminded how much she loves her daughter and how she can't imagine life without her. Distance gives her a new perspective and refreshes her spirit for another stretch. In fact, she just spent three days with me here in Orlando while her husband and son assumed caregiving responsibilities to give her a break.
"And there is something else," she says, "People really want to help. They are not just throwing out their vague offer to be nice. Most truly want to do something, but feel clumsy about what they could possibly do to help alleviate such a serious need. They feel inadequate."
My friend says offers of help make her feel less alone in a difficult journey. "Somebody cares," she says. "Somebody notices what I'm going through."
Isn't it funny how people offering help feel it's inadequate and those receiving the offer feel it would be too much of a burden to accept?
Both have it wrong.
The next time a loved one offers help, please, take their offer. You'll both be better for it.
Get Access to Free Resources for Patients & Loved Ones
Free Mesothelioma Resources