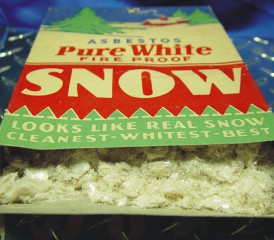 I lost my husband, Brian, to mesothelioma in 2001. The disease stemmed from his exposure to asbestos when he was a child.
His parents didn't know about the dangers of asbestos because reports of its toxicity often were kept from the public.
But that's not the case anymore.
Asbestos Awareness Week kicks off today and runs through April 7. The health hazards of asbestos are well known now. While the mineral is banned in many countries, it is still used in others. The risk of exposure has diminished, but it hasn't vanished.
Brian's exposure, diagnosis and death from mesothelioma are the reasons why there should be more awareness about asbestos and its hazards.
My Ignorance About Asbestos
Asbestos was common in Australia
 when I was a child in the 1960s.
I lived in a neighborhood where the majority of family homes, including mine, were constructed primarily of asbestos sheeting — known as fibro in Australia — as were most buildings in my area such as the school I attended.
The same could be said for other neighborhoods and towns I visited in my childhood and as a young adult. Wherever I went, there were homes, sheds, back yard toilets and fences constructed from fibro and other asbestos products.
Although I didn't know it then, asbestos likely was in many products inside our home such as tile floor coverings, hot water system, portable heaters, my mom's hairdryer (coil-wrapping and insulation in some older hair driers and portable heaters contain asbestos), the slow cooker, toaster and even the ironing board cover.
Back then, none of it meant anything to me. I had no reason to fear asbestos. I lived and breathed in its presence with absolutely no idea of its deadly potential.
Awakening to the Dangers of Asbestos
My ignorance about asbestos ended in December 1999 when Brian, visited his doctor to determine what was causing his shortness of breath. X-rays revealed a large amount of fluid in his chest cavity, a condition known as a pleural effusion and common in mesothelioma patients.
The fluid was drained and sent to pathology. The results: devastating.
Doctors diagnosed Brian with pleural mesothelioma, an incurable cancer caused by asbestos. His prognosis was less than a year.
The start of Brian's illness can be traced to Wittenoom, a small asbestos mining town where he once lived. If his parents had known about the dangers of asbestos, they might have avoided living there or taken precautions to protect themselves and their son from possible exposure to the deadly mineral.
Wittenoom: Australia's Chernobyl
Brian's exposure to asbestos stemmed from the few months he had spent in Wittenoom. He and his sister, Pat, as well as his parents, Vic and Dorrie, were among the nearly 20,000 people who lived and worked in the ill-fated blue asbestos mining town colloquially known as Australia's Chernobyl.
The town, located about 886 miles north of Perth, was home to a mine that served as Australia's sole supplier of asbestos. The Wittenoom mine operated from 1943 to 1966, and miners extracted more than 161,000 tons of blue asbestos during that period.
Mining operations released deadly asbestos fibers inside the mine, the surrounding areas and onto the clothes of workers, who them carried the fibers home to their families.
An estimated 2,000 former Wittenoom residents, including Brian and his parents, succumbed to asbestos-related diseases — and more to follow.
Fast Fact: Australian Institute of Health and Welfare officials expect mesothelioma cases to peak at 18,000 in 2020.
Brian's illness and death has profoundly impacted on my life and opened my eyes to the relentless cycle of illness and death caused by exposure to asbestos.
Australia banned asbestos mining but this has not removed the danger. Hundreds of buildings constructed with asbestos-containing materials are still standing. Lack of maintenance, time and erosion has turned many others into ticking time bombs.
There is no safe level of asbestos exposure, and I fear for my health and the health of my loved ones and fellow Australians.
Asbestos Awareness Has Grown, but Not Enough
Stories emerging from the Wittenoom tragedy, and the more recent Mr. Fluffy crisis occurring in Canberra, have heightened the public's awareness of the danger of asbestos exposure, but there is a long way to go.
Experts foresee another wave of mesothelioma victims soon emerging: Homeowners inspired by "Do It Yourself" TV programs. Some of these novice renovators are unwittingly pulling down fibro walls and fences. If you are planning on renovating your home yourself, do your best to research if your project will disturb asbestos. You owe it to yourself and your loved ones.
Asbestos-disease organizations, such as the Lung Foundation of Australia and mesothelioma information and support websites like Asbestos.com work to increase awareness of asbestos exposure and asbestos-related diseases.
During Asbestos Awareness Week, groups hold free seminars and conferences open to the public and host fundraising events aimed at increasing research funding.
My husband, Brian, and his family weren't told about the dangers of asbestos because there was little emphasis of the hazards if any at all.
But now we know it's deadly. It's not too late to raise awareness and save future generations.