Cancer & Caregiving
How to Regain Financial Control After Mesothelioma Death
Fact Checked
Our fact-checking process begins with a thorough review of all sources to ensure they are high quality. Then we cross-check the facts with original medical or scientific reports published by those sources, or we validate the facts with reputable news organizations, medical and scientific experts and other health experts. Each page includes all sources for full transparency.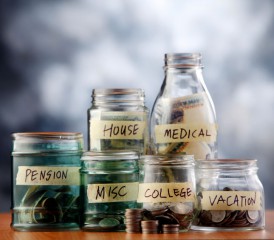 As a child, the livelihood of my family depended on my father's job at a paper mill in Lockland, Ohio. If something happened to him, we'd be financially crushed.
Well, something did happen to him. His 22 years of service exposed him to dangerous chemicals, including asbestos. He developed mesothelioma from that exposure. He no longer had the stamina to work an eight-hour shift or the overtime he usually didn't charge the company for. He died at age 44.
Fathers are the sole providers of 20 percent of U.S. families, according to the U.S. Department of Labor. Many of these men continue working in industries that put them at a greater risk of exposure to carcinogens like asbestos. Like so many other middle- and working-class families faced with tragedy and loss, our family found itself on the brink of financial ruin.
Finding the Right Financial Support
When the storm of losing someone clears a bit, widows and widowers often face the tough reality that they alone must now provide for their family.
My mom was somewhat luckier than others because her husband had carefully planned for our family's future. She was able to remain at home, as my father's retirement and survivor benefits allowed her a sustainable, yet meager income.
It is important to keep in mind there are many different forms of support available, and returning to the employment line after suffering the loss of a spouse is not an uncommon journey. Career planning specialists can offer tips to assist people on this journey.
While a tough economy can make the job search difficult, it's a small hill to climb, and one that's far easier to climb than mountains you already have faced. You can do this. Take the time to heal and begin to assess your particular situation. Think about what choices are best for your family.
U.S. veterans and their families can find help through the VA. Some families may tap into trust funds set aside by negligent companies to take care of the financial needs of those affected by the death of a loved one from mesothelioma.
Don't Make Unrealistic Decisions
U.S. News & World Report financial writer Phillip Moeller suggests people who are in the process of bereavement should not make any big decisions during the grieving process.
When we are still reeling from loss, we may be tempted to change our situation by moving away from the home shared with our spouse or other unrealistic solutions.
My mom sensed this same urge to run away from her broken heart. Her solution to losing her husband of 22 years was moving 212 miles away from the home they shared. She thought her heartache would subside if she had a fresh start in a new home.
Losing someone so close is a difficult process, no matter where you hang your keys. Sometimes rash decisions can create more problems. Running away will not ease the pain of loss. It follows you into a new home and rocks the foundation you are trying to build.
Take some time to consider all the options available to you. Think about the many outcomes your decisions might entail. Is a move really right for you? What about the kids? What career options are available for you? What kind of changes would best benefit your family as a whole?
Challenges for Women Returning to the Workforce
Many women may find that while they were busy raising children and being the matriarch of their family, their resume may have developed gaps in their employment history.
They may also find the work environment has changed drastically. It is important to think about what type of career you might be interested in pursuing. Rather than creating a chronological resume that might alarm prospective employers, perhaps it might be best to create a resume that focuses on all the accomplishments you have made in life — career and personal.
Emphasize your good qualities and characteristics that make you a valuable asset in a working environment. Think about what type of career you would enjoy doing. There are career planning programs available that can pinpoint your skills and help assess which career options might best benefit you and your family.
Pursuing a higher-education degree and developing skills that enhance your employment opportunities might be a beneficial decision. Working can benefit your mind, body and financial needs.
While widows and widowers may return to the workforce out of necessity, many find that working provides meaningful purpose outside of the home. Working can also serve as a new beginning for those who have hit rock bottom after suffering from a loss to mesothelioma.
Get Access to Free Resources for Patients & Loved Ones
Free Mesothelioma Resources