Cancer & Caregiving
When Mesothelioma Hits Home, Depression Affects Everyone
Fact Checked
Our fact-checking process begins with a thorough review of all sources to ensure they are high quality. Then we cross-check the facts with original medical or scientific reports published by those sources, or we validate the facts with reputable news organizations, medical and scientific experts and other health experts. Each page includes all sources for full transparency.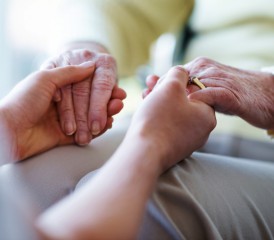 Anyone who has any experience with mesothelioma becomes quickly schooled in all the implications that come with a diagnosis, including depression.
People who are diagnosed with mesothelioma may have to quit work to focus on getting better. Family members may want to become caregivers and may have to take some time away from work to do so. Sometimes finances become an issue because of the inability to work.
Daily life stresses become exaggerated when dealing with a disease like mesothelioma, and it can lead to depression. People facing such an arduous battle may feel like their entire world has come crashing down.
Mesothelioma Caused Stressful Situations at Home
My mother was a stay-at-home mom when I was growing up, and my father was the sole income provider at home.
Dad was diagnosed with mesothelioma in September 1992. He had to quit working a month later. The bills piled up, but the money did not. We survived on savings for a while, but soon those ran out, too. Medical bills, utilities, house payments and food expenses were draining my father's bank account.
His illness was getting worse and so was his mental state. He was under a tremendous amount of stress — physically and mentally. He hid his emotions from his children. All I ever saw was his fearlessness.
There was so much more to it than that. There were a few nights when I could hear my parents' hushed voices creeping up the hallway to my bedroom. I couldn't hear their conversations, but I could tell it wasn't good. I also heard them weeping together.
My father wasn't the machine he portrayed himself to be. He was a man with a heart, and he was dying from mesothelioma. He worried about what would become of his family if he was not there to protect and provide for them. My mom worried about how she would live without her husband. What would become of us?
Depression Should Not Be Handled Alone
After my dad passed in November 1993, my mother sank into a deep depression. In fact, she has never recovered.
She suffered for years in silence and only sought treatment for her depression after a lengthy hospitalization. She still suffers today. The grief she suffered from losing her husband to mesothelioma is the root of my mother's ongoing struggle with mental illness.
My point is that no one should suffer alone in silence. Because mental health care doesn't carry the same stigma it once did, people are now more open to discussing their mental health. Doctors are better equipped to deal with mental health than they were in 1993.
Improvements in Diagnosing Depression
The American Psychological Association (APA) in 2013 released a new version of the Diagnostic and Statistical Manual of Mental Disorders called the DSM-5. It is updated every few years with new symptoms, conditions and methods of diagnosis so doctors can better identify mental disorders such as anxiety and depression.
Depression symptoms may include:
Depressed mood
Diminished interest in activities
Significant weight loss or weight gain
Insomnia
Fatigue
Decreased concentration
Many people who have been diagnosed with mesothelioma, or know a loved one diagnosed with the illness, may encounter some of these symptoms.
APA officials said the earlier version of the manual explained that clinicians were advised to refrain from diagnosing major depression in individuals within the first two months following the death of a loved one. That time limit suggested grief somehow protected someone from major depression.
That restriction was removed from the DSM-5.
Simply put, two months is too long to wait for a diagnosis and treatment.
If you feel you may be experiencing symptoms of depression, mention it to your doctor sooner rather than later.
Seek Help for Depression
My mother struggled with untreated depression for more than a year.
She eventually suffered a complete breakdown that led to a temporary hospitalization. Both of us may have benefited immensely from seeking help from a mental health care professional. Dealing with illness and grief is no easy task.
It is okay to say you need help. Experiencing mesothelioma can be a long and difficult road to travel. Having a little help along the way is not a sign of weakness. Instead, it is a demonstration of strength and endurance.
Melanie Ball lives in Kentucky. Her father, Richard Lloyd Barker, died of mesothelioma in 1993. She is pursuing a bachelor's degree in psychology from the University of Phoenix.
Get Access to Free Resources for Patients & Loved Ones
Free Mesothelioma Resources