Cancer & Caregiving
Using Faith to Cope with Mesothelioma | Online Support Group
Fact Checked
Our fact-checking process begins with a thorough review of all sources to ensure they are high quality. Then we cross-check the facts with original medical or scientific reports published by those sources, or we validate the facts with reputable news organizations, medical and scientific experts and other health experts. Each page includes all sources for full transparency.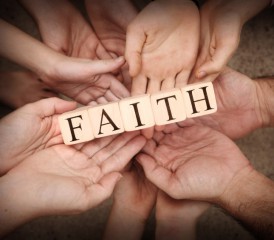 There's nothing quite like cancer, aside from another life-threatening condition, that makes people think about their faith in a higher power.
Interestingly, cancer patients who do find faith in something greater tend to do better than those without faith-oriented beliefs.
Cancer patients with religious or spiritual beliefs have better overall health, functional well-being and reduced physical symptoms, a 2015 American Cancer Society study discovered.
Finding meaning in the suffering caused by cancer is often easier for people with religious or spiritual beliefs.
Religion and spirituality offer bigger perspectives about the meaning of life, a topic that becomes increasingly important to people after a cancer diagnosis. It becomes easier to accept the challenges of cancer when the patient believes there is a higher purpose behind it all.
Spiritual Distress
Faith in an organized religion or spirituality helps many people cope with cancer. The most recent Harris Poll shows 74 percent of U.S. adults believe in God.
However, not every cancer patient with religious or spiritual beliefs responds with unwavering faith. Some people begin to question their faith after a cancer diagnosis. This may be especially true for people who were unknowingly exposed to asbestos and feel like God failed to protect them, despite being a faithful follower.
While 74 percent of U.S. adults believe in God, belief is down 8 percent from the 2009 Harris Poll. And 23 percent call themselves not at all religious (up from just 12 percent in 2007).
Some people simply don't have a sense of spirituality to fall back on. But they can reap the benefits of certain spiritual practices, like meditation, without incorporating faith-oriented beliefs.
Types of Religious and Spiritual Coping
Prayer is probably the most common coping practice used by people with religious beliefs. Many religions speak about the power of prayer and some churches offer group prayer circles.
Cancer patients who know people are praying for them feel a sense of support and comfort. Many churches have prayer lists that pray for people in need.
For example, Unity Worldwide Ministries offers Silent Unity, a prayer hotline where people are available 24-7 to listen to prayer requests. Silent Unity is available by calling (800) NOW-PRAY.
Other types of religious and spiritual coping practices include:
Attending church services or bible study
Faith or spiritual healing
Meditation
Breathing techniques (also called pranayama)
Spiritual energy therapies, such as Reiki
Regardless of the type of faith-based practice used, people who utilize religious or spiritual practices to cope with cancer have a higher quality of life than those who don't.
Questions and Answers from the November 2015 Online Support Group
Patients and caregivers asked a number of questions during the recent online support group. Here we include answers to some of them.
Q: Sometimes my feet feel like they're walking on rocks. Could this be peripheral neuropathy?
A: Yes, the sensation that you're walking on glass or rocks is a sign of peripheral neuropathy.
Lyrica is a drug that's commonly prescribed for nerve pain and works well for many people. Gabapentin is another drug that's used to treat nerve pain, and it's available in a topical form for people who have adverse side effects taking it orally.
Q: Are Alimta and pemetrexed the same chemotherapy drug?
A: Yes, Alimta is the brand name of the generic drug pemetrexed.
Get Access to Free Resources for Patients & Loved Ones
Free Mesothelioma Resources