Celebrating the Holidays While Managing Mesothelioma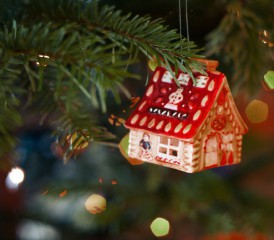 My family has always celebrated Christmas on Christmas Eve. Every year our loved ones would join us in a heartwarming celebration of winter and family. The children would play, while the adults sat around the table to catch up.
But Christmas in 1992 was different. Our family was dealt a devastating blow when my father was diagnosed with stage IV mesothelioma. He was due to begin a chemotherapy and radiation regimen in late December.
For our family, the holidays were an afterthought that year. The anticipation of getting together and opening presents was absent from our hearts. Thanksgiving was awkward, and we didn't even want to think about Christmas.
The news was hardest on my dad. Doctors had told him he wouldn't live to see the new year. He was so devastated that he wasn't enjoying life anymore. He was too worried about dying to enjoy living.
We didn't know it then, but that Christmas was a turning point in his battle.
The Turning Point
One afternoon in early December, I walked into our house after getting home from school, but something seemed strange. My parents were drinking coffee in the dining room and they were smiling. At this point, I wasn't used to seeing either of them smile much. Our happiness had been clouded with worry.
I sat my books on the table and looked at my parents inquisitively. "What's going on?" I asked. My mom looked at me and said, "We're doing Christmas!"
I gave another puzzled look, and they sat me down. My dad told me that even though he was sick, he wanted to have a big Christmas. He said it might be his last, and he wanted to make it the best.
Enjoying the Holidays While Managing an Illness
Managing a serious illness like mesothelioma is no easy task, and the added holiday stress can make this time of year even more difficult.
To say that treatment is physically and emotionally taxing doesn't begin to capture the truly exhausting nature of chemotherapy and radiation.
Health care expert Dr. Brian Slingsby says holiday events may be too exhausting for people fighting serious illnesses, but there can be noteworthy benefits. In 2007, Slingsby and his colleagues at the University of Tokyo performed a study to see how hospice patients responded to a program that celebrated seasonal events.
Researchers found 72 percent of hospice patients responded positively to monthly seasonal celebrations. Survey results showed patients appreciated being able to get a feeling for the seasons and also enjoyed interacting with staff and volunteers. Some complained the events were too long, too tiring and made them feel sad.
Slingsby stresses the importance of holiday celebrations in satisfying a patient's spiritual and social needs, but says physical needs must remain the top priority. He even found patients facing a terminal illness enjoyed holiday celebrations, so long as the events weren't too long or physically taxing. He views the celebrations as a form of relaxation therapy.
A Beautiful Last Christmas
That year, our Christmas tree had never looked more beautiful.
My mother purchased a gift for every child who attended, and even pre-wrapped backup gifts for any kid she may have missed. She spent weeks making homemade peanut butter bonbons and every other Christmas confection known to man.
My parents hadn't forgotten to 'deck the halls' either. Mom had strung tinsel and garland all over our family room. Mistletoe hung in every doorway. The crackling fire beckoned people to come and chat for a while.
On that Christmas Eve, 113 people visited our home. Family from all over Kentucky and Ohio came to our party. Old friends my dad hadn't seen in years stopped by. The place was so crowded with people that my cousin Tabitha and I hid in my room to escape the beautiful madness.
I cannot remember one single gift I unwrapped that year. The one thing I do remember is the smile on my father's face. He was so happy to see everyone that night.
Dad was right; that was the best Christmas we ever had.
A Modified Holiday Event
Some people with mesothelioma may not feel up to celebrating the holidays like they once did. If you or your loved one feels the same way, it might be helpful to modify the celebration to fit your family's new needs.
A few changes to the normal routine might be necessary, but you can still enjoy the holidays with the people you care about most.
Instead of hosting a full-scale dinner, host coffee and desserts. This allows your family to spend time together and celebrate without a lengthy meal, coffee and gift exchange party that you or your loved one may not feel up to.
You can schedule a celebration at a nearby restaurant. Family get-togethers can create a lot of work. Let a chef do the cooking so you can enjoy dinner and family without all the hassle and cleanup.
Remember, it's okay to tell your family if you or your loved one isn't feeling up to all the fuss of the holidays. Family members are understanding and can help accommodate your needs. We all want to spend time together for the holidays, but health and well-being must remain top priority.
My dad celebrated his last Christmas early in his battle with mesothelioma. He was still feeling physically strong, but his mental state had suffered a devastating hit. He always loved spending time with family, especially during the holidays.
His decision to have a Christmas party served his notice to mesothelioma. He wasn't going out without a fight, and by golly, he was going to enjoy Christmas.
1 Cited Article Sources
Matsushima, T., Akabayashi, A., Slingsby, BT. and Nishitateno, K. (2007, September). Evaluation of a Program to Celebrate Seasonal Events for Japanese Hospice Patients. Retrieved from: https://www.ncbi.nlm.nih.gov/pubmed/17969828