Health & Wellness
Cats & Dogs Improve Quality of Life for Mesothelioma Patients
Fact Checked
Our fact-checking process begins with a thorough review of all sources to ensure they are high quality. Then we cross-check the facts with original medical or scientific reports published by those sources, or we validate the facts with reputable news organizations, medical and scientific experts and other health experts. Each page includes all sources for full transparency.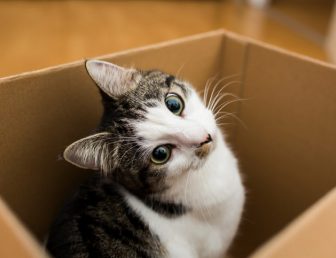 End-of-year holidays are always a time of reflection for me.
I lost my dad to mesothelioma 23 years ago on Nov. 4, 1993. I have progressed from letting sadness consume me on the anniversary of his death to spending the day fully functional.
Although I take pleasure in recounting touching memories of him with my family, it's always a bit of a struggle. This year was different. As tears rolled down my cheeks and spilled onto my pillow, sadness consumed me, and suddenly, I felt it.
A soft, furry mass crept onto my chest, and I heard a familiar purr. White Kitty — yes, that's the name my kids gave our cat — made his presence known.
Didn't he know I was having a moment? I moved him off the bed, but he hopped back on my chest, demanding I pet him. I caved and petted White Kitty until sleep found me.
Pets have the amazing ability to divert our attention from sadness and make us feel better about our moment of pain.
Strong Bond Between Pebbles and My Dad
As a kid, we never had any pets until my family visited relatives who were selling puppies. My mom fell in love with a little mixed-breed Chihuahua.
We named her Pebbles. Dad was not impressed with the little dog. He said animals did not belong in the house, and that he did not like her — or so it seemed.
But one day I came home from school and found Dad snuggling and napping with Pebbles on the couch. At the time, he wouldn't admit he loved her. But when his health worsened, he depended on their relationship. Pebbles made him feel better.
The doctors wanted Dad to have a hospital bed at home, but he refused. Instead, he got a new recliner and slept in the living room. Pebbles slept in the chair with him every night. Wherever he was, she was not far behind.
When he had doctor appointments or chemotherapy treatments, Pebbles waited faithfully for him in the recliner. She stayed in that recliner months after Dad died.
Benefits of Animal-Assisted Therapy
It's not uncommon now to incorporate companion animals in cancer treatment. But in the 1990s, my family had no idea Pebbles could positively impact Dad's health.
Researchers from Continuum Cancer Centers of New York, The Beth Israel Medical Center, and Maimonides Medical Center in Brooklyn investigated the effects of incorporating animal visits on the following aspects of chemotherapy and radiation treatment:
Motivation for chemotherapy and radiation appointments
Ability to tolerate waiting times
Perception of pain
Experience with nausea
Mesothelioma patients who undergo chemotherapy and radiation treatments commonly experience pain and nausea. Patients may also experience psychological symptoms associated with their treatment such as irritability and sadness.
Despite the cancer symptoms associated with their treatment, patients who visited with animals during their cancer treatments reported increases in their overall emotional well-being.
The study also showed animal contact can help:
Reduce blood pressure
Calm anxiety
Alleviate treatment-associated depression
Change a patient's perception of pain
Could You Benefit from a Companion Animal?
Not everyone enjoys being around animals, but for those of us who do love them, animals can have a positive influence on emotional well-being.
I know White Kitty made a difference. Dad grimaced during his chemotherapy treatment, but he seemed to forget the pain when he petted his faithful furry friend.
Many cancer treatment facilities offer animal-assisted therapy as part of a comprehensive approach to treatment. For example, Cancer Treatment Centers of America offers animal-assisted therapy at all of their hospitals.
If you think animal-assisted therapy might benefit you or your loved one, mention it at your next oncology appointment. If your specific provider doesn't offer animal services, they might refer you to someone who specializes in this type of therapy.
For those of you with pets at home, snuggle your furry loved one a little closer. Paying closer attention to your pet might get your mind off your health and other worries.
Your pet would appreciate the extra attention, too.
Free Mesothelioma Resources
Get Access to Free Resources for Patients & Loved Ones