Cancer & Caregiving
Factors to Consider Before Becoming a Mesothelioma Caregiver
Fact Checked
Our fact-checking process begins with a thorough review of all sources to ensure they are high quality. Then we cross-check the facts with original medical or scientific reports published by those sources, or we validate the facts with reputable news organizations, medical and scientific experts and other health experts. Each page includes all sources for full transparency.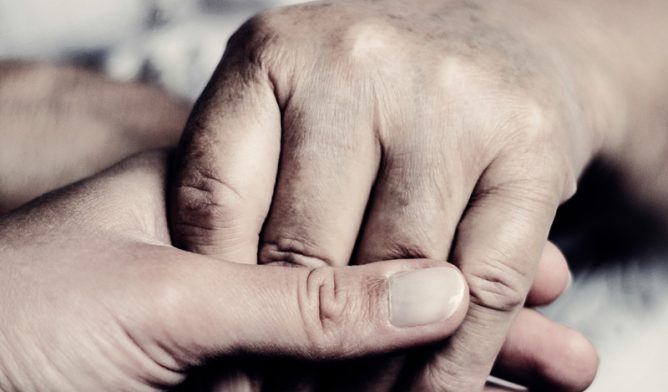 For many, assuming the role of caregiver is a natural process.
When doctors diagnose an aggressive cancer such as mesothelioma, the patient's family members gravitate to the role of family care provider.
Caregivers are often the spouse of a cancer patient.
However, families don't always fit into the "traditional" mold with a husband or wife caring for the spouse.
Adult children may find themselves caring for a sick parent. Caregivers may be more distantly related — or not related at all — to the person for whom they provide care.
Things to Consider Before Assuming a Caregiver Role
There are essential factors people should consider when assuming the selfless role of a family caregiver.
Many people might wonder if they are cut out for required duties and responsibilities of the position.
A good understanding of the demands and rewards of caregiving can ease the anxiety of deciding who will provide the best care.
The American Cancer Society describes many considerations a person should take before assuming the role.
Some factors to consider include:
Constantly changing duties
Rewards of providing care
Family expectations
Importance of self-care
Fluidity of the Caregiver Role
If being a caregiver teaches a person only one thing, it should be that the role constantly changes.
Life still happens in real time, even when families face cancer.
Bills need to be paid. Laundry and other chores still pile up. Caregivers are selfless jacks-of-all-trades.
One day a caregiver might focus solely on scheduling medical appointments. Another day might involve sitting bedside in a hospital room listening to doctors explain complicated medical procedures.
Family caregiving doesn't come with a clearly defined job description, and if it did, someone would continually edit the manual.
The tendency toward change might be challenging, but change can also be a good thing.
Rather than becoming complacent and bored in the role of a caregiver, many people welcome the ever-changing schedule.
Satisfaction in Caring for Others
Caring for a loved one isn't an easy job, but it can be the most meaningful duty of your life.
Facing cancer is a complicated process for families and even more challenging for the patient.
Being a supportive caregiver is a way to express love and support for a loved one in their time of struggle. Overcoming the physical and emotional challenges of caregiving present a sense of accomplishment and pride.
Guiding a loved one through a difficult cancer treatment or just getting the laundry done after an oncology appointment can foster a caregiver's self-esteem and self-worth.
There is an intimate and unmatched — almost indescribable — bond between a patient and caregiver.
Family Pressures and Expectations
Family problems don't magically disappear when dealing with cancer.
Sometimes family issues present before a diagnosis intensify during an illness.
Strained relationships may be more difficult at a time when communication and support are imperative.
Not every family has a caregiver in mind following a diagnosis. Not everyone seamlessly falls into the role of providing care.
Sometimes people underestimate the demands of caregiving and later decide they aren't cut out for the job.
The American Cancer Society offers several tips to alleviate family pressures and develop realistic expectations of family members:
Set Limits: Decide which duties you are capable of fulfilling and let your family know. It helps when family members understand everyone must share responsibilities of caring for their loved one. Setting limits early allows families to avoid confusion later.
Don't Ignore Problems: Almost inevitably, family caregivers will encounter unexpected problems. Ignoring these issues does nothing to solve them. Be brave, but also respectful when calling issues to the attention of other family members.
Seek Professional Guidance: Facing a cancer diagnosis can show a family's resiliency. However, when issues become overwhelming, people shouldn't hesitate to reach out to a social worker or mental health professional for help. These professionals are often a part of the patient's oncology team.
You Can't Pour from an Empty Cup
Self-care is perhaps the most critical element of all helping professions.
It is also one of the most neglected aspects of family caregiving.
Throughout my graduate program, I've heard professors remind students that helping professionals "can't pour from an empty cup."
The sentiment is also true for caregivers. No one can fulfill the duties of a care provider all day, seven days a week, without needing a break.
Self-care isn't a luxury. It is a requirement.
Addressing your physical, emotional and spiritual needs are essential for providing adequate care for a loved one.
Taking time out for yourself might mean you need someone to fill in for you. With a little organization and planning, caregivers can take a much-needed break for themselves.
A few minutes of alone time can make all the difference.
Taking a bubble bath or reading a few chapters of a good book can profoundly impact the life of a family caregiver.
Becoming a caregiver isn't always a decision people expect to make. With a little support and planning, the selfless love of caregiving can be the most impactful and loving experience for all involved.
Get Access to Free Resources for Patients & Loved Ones
Free Mesothelioma Resources