Treatment & Doctors
Study Used Mistletoe, Winter Rose in Mesothelioma Treatment
Fact Checked
Our fact-checking process begins with a thorough review of all sources to ensure they are high quality. Then we cross-check the facts with original medical or scientific reports published by those sources, or we validate the facts with reputable news organizations, medical and scientific experts and other health experts. Each page includes all sources for full transparency.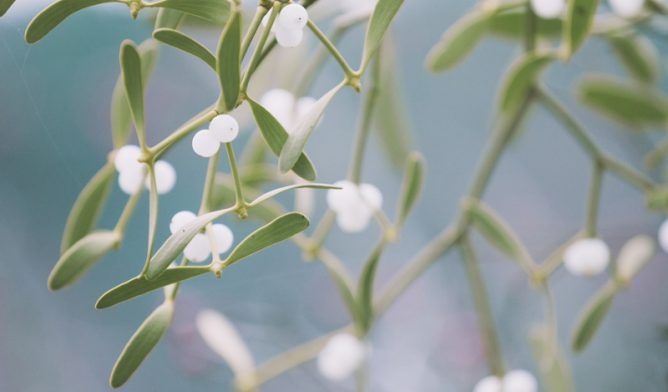 If you have received a mesothelioma diagnosis, you're likely exploring every treatment option. For some patients, this includes complementary and alternative medicine such as nutrition, herbs and acupuncture.
There are many mainstream mesothelioma treatments, too, such as surgery, radiation therapy and chemotherapy. Unfortunately, none of these regimens is expected to cure mesothelioma for most patients.
For one woman, two holiday plants helped her take control after a pleural mesothelioma diagnosis. She used extracts of mistletoe and winter rose, which may have helped her live better and longer.
Learning about her story can provide hope for people affected by mesothelioma. If you are considering alternative medicine, this story may help you open the conversation about complementary and alternative medicine with your doctor.
Regimen Excluded Conventional Mesothelioma Treatment
A 2017 medical report published in the Journal of Thoracic Disease details the results of the 64-year old German woman who received mistletoe and winter rose extracts to treat pleural mesothelioma.
Her doctors confirmed her diagnosis as stage 3 epithelioid pleural mesothelioma.
Her health care team sent tumor samples to the German mesothelioma registry as well. This independent confirmation of a mesothelioma diagnosis gives the case report added weight and credibility.
The patient decided against receiving radiation therapy, chemotherapy, surgery and a procedure called pleurodesis, which can remove excess fluid around the lungs.
She consulted a general practitioner qualified to administer mistletoe and winter rose extracts. The scientific name of the mistletoe used for cancer treatment is Viscum album. The type of winter rose used in the study is also known as Helleborus niger.
Over the next 50 months, the patient received monthly injections and infusions of mistletoe extract. Winter rose was added periodically, though not every month.
The patient received some medications and additional alternative therapies. These helped her cope with emotional distress, symptoms of disease, and other chronic conditions such as insomnia and low thyroid function.
Mistletoe, Winter Rose Extract Reduced Mesothelioma Symptoms
Within the first six weeks of beginning the mistletoe and winter rose extract regimen, her health care team reported she felt well, and her performance status improved.
The patient's cough disappeared, and she experienced shrinkage of her mesothelioma tumors.
Her disease stabilized for 38 months. She lived for 56 months after her diagnosis. In summary:
The woman in the case study lived for nearly five years after her diagnosis
She reported feeling well for the majority of that time
She never received conventional cancer treatments
For patients with similar types of mesothelioma cancer, approximately 17 percent will be living two years after diagnosis. At five years, around 4 percent of patients will still be alive.
Considering these statistics, it is remarkable the patient lived for four years and eight months, especially considering she did not received conventional mesothelioma treatments.
Turning to the Garden for Medical Inspiration
Plants already are a big part of cancer treatment.
Over 50 percent of cancer drugs come directly from plant substances, or were developed in the lab by modifying a plant chemical into a drug.
Even garden flowers are getting in on the act. A recent report detailed natural substances found in daffodils have anticancer properties in the lab. These extracts may one day make their way into the clinic.
Some mesothelioma survivors claim moringa tree leaves, which contain high levels of protein, calcium, iron and antioxidants, have extended their life expectancy and improved their well-being.
Finding Your Best Path Forward After Mesothelioma
Deciding on the best course of action after a mesothelioma diagnosis is a very individual choice. To help you make the best decisions:
Talk with your oncology health care team
Obtain second opinions if necessary
Ask about clinical trial options
Ask if you can combine conventional and alternative treatments
Given the lack of a cure, complementary and alternative medicine (CAM) offers another avenue of hope for mesothelioma patients. CAM can help mesothelioma patients in a number of ways.
CAM therapies may provide a sense of control, improve quality of life and help manage symptoms and side effects.
Look for Treatment Centers Offering Integrative Oncology
Some cancer centers use integrative oncology, which is the combination of CAM and conventional cancer treatments.
If you are being treated at a large cancer center, where mesothelioma doctors are available to you, ask if any CAM providers are affiliated with their treatment facility.
Many large centers offer nutrition consultation, acupuncture, massage, or other supportive therapies. If these services are not available, let your doctor know if you plan to pursue them on your own.
The alternative medicines used in this case report are readily available in Germany. Mistletoe is not approved for use in the U.S., but it is available through clinical trials.
CAM regimens still aren't proven to cure mesothelioma, but they may be able to help you live better and longer. Be sure to keep all of your health care providers in the loop so you can safely pursue the best treatment course for you.
Medically Reviewed by Top Mesothelioma Doctors
Free Mesothelioma Guide