Health & Wellness
Creating a Natural Healing Space for Mesothelioma
Fact Checked
Our fact-checking process begins with a thorough review of all sources to ensure they are high quality. Then we cross-check the facts with original medical or scientific reports published by those sources, or we validate the facts with reputable news organizations, medical and scientific experts and other health experts. Each page includes all sources for full transparency.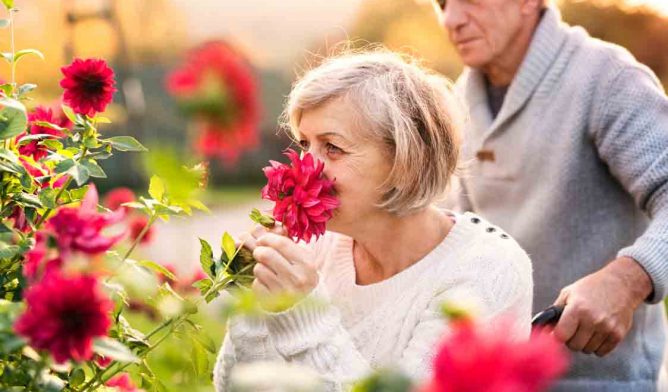 Every year, it seems to happen overnight. The trees start budding, the grass gets greener and flowers begin to peek through the surface of the soil.
Following a long cold winter, Mother Nature has her way of restoring a sense of hope by breathing new life into the world. Spring ushers in a season of renewal and transformation.
Horticulturalists, medical professionals and caregivers have learned to tap into these natural forces. They recognize nature's healing power can benefit patients undergoing treatment for mesothelioma.
Efforts to include nature in health care settings were first inspired by the work of Robert Ulrich. He is the esteemed co-founder and director of the Center for Health Systems and Design at Texas A&M University.
Ulrich's landmark research, published in the 1980s, suggested that viewing nature can positively impact patient health and recovery time. His study found that patients who could see nature from their hospital room required shorter recovery times and fewer painkillers after surgery.
Healing Gardens Revolutionize Health Care Facilities
It is now fairly common for health care facilities, hospitals and cancer treatment centers to feature "healing gardens." These natural therapeutic spaces improve patients' healthcare experiences and offer families an inviting place to gather.
The American Horticultural Therapy Association has featured healing gardens designed for families dealing with cancer. These gardens increase a patient's sense of hope, invoke feelings of renewal and promote physical and mental restoration.
A few prominent features of healing gardens designed for cancer patients include:
Shaded areas: Many cancer patients become sensitive to sunlight during their chemotherapy treatments. Strategically placed seating in shaded areas provide a place to rest and enjoy the scenery without the risks of sun exposure.
Accessibility: Wheelchair accessibility is essential for patients with mobility issues. It is also helpful to have large windows so patients with compromised immune systems can view the gardens from a short distance indoors.
Appealing plants: Colorful flowers are visually pleasing, but designers also choose plants with gentle fragrances. Some patients become sensitive to smell as a side effect of their cancer treatment.
Water features: Many therapeutic gardens have fountains and ponds that create soothing sounds of water. For many patients, this is a welcome distraction from the normal cacophony of sounds present in hospitals and clinics.
Some facilities also offer acupuncture, creative arts therapy and medical services in their healing gardens.
Health and Social Benefits of Healing Gardens
According to World Health Design, there are numerous benefits to patients and families who spend time in healing gardens.
A cancer diagnosis and subsequent treatments put great stress on patients and their families. Visiting a healing garden that engages the senses often reduces stress to a more manageable level. Lower stress levels are more conducive to the healing process.
Many patients undergoing chemotherapy and radiation treatments also experience increased anxiety. Visiting therapeutic gardens can calm fears surrounding treatment. A soothing environment can also distract patients from side effects.
Finally, having a place for patients to visit with their families fosters much-needed social support.
From the Hospital Garden to the Backyard
Patients and their families don't have to leave the benefits of healing gardens in medical treatment facilities.
With a little imagination, people can recreate a healing garden on their front porch or in their backyard. A natural, therapeutic space doesn't have to break the bank or anyone's back.
The internet has no shortage of DIY healing garden tips and how-to videos that provide guidance to the novice gardener. The National Garden Bureau provides several tips that can be easily adjusted for an individual patient:
Start small: A healing garden doesn't have to be a huge, pain-staking building project. Vegetables or flowers planted in simple containers are a good starting point.
Choose plants you'll enjoy: For those seeking visual appeal, planting colorful flowers might be the best choice. Others may plant vegetables they enjoy eating. Herbs and other fragrant plants are a good choice for natural aromatherapy.
Add a birdfeeder: A birdhouse or birdfeeder can entice birds to come for the food and stay for your viewing satisfaction. Bird watching can be a soothing distraction from the hustle and bustle of daily life.
Create pleasing sound features: Many people find a small water fountain or wind chime to be a relaxing addition. Hearing water trickle or a gentle chime may also aid in meditation.
No matter how big or small the natural space, adding a few plants can make a huge difference.
There is a reason we send flowers to others as a gesture of love or celebration. People find pleasure in them, and the blossoms of spring promote overall well-being.
Free Mesothelioma Resources
Get Access to Free Resources for Patients & Loved Ones