Cancer & Caregiving
Discussing Husband's Mesothelioma Death Eases Emotions
Fact Checked
Our fact-checking process begins with a thorough review of all sources to ensure they are high quality. Then we cross-check the facts with original medical or scientific reports published by those sources, or we validate the facts with reputable news organizations, medical and scientific experts and other health experts. Each page includes all sources for full transparency.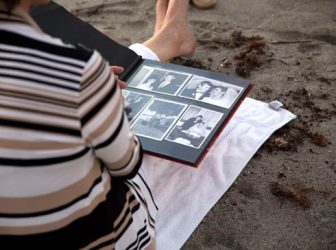 Life as we know it cannot go on forever. This is a given. But how many of us are prepared to talk about our death or that of a loved one?
I found my answer to this question when my 52-year-old husband Brian was diagnosed with mesothelioma. Accepting that he had the asbestos-related cancer was difficult enough. But believing he had less than a year to live was impossible.
After researching mesothelioma online, I had to accept that Brian was going to die of the disease — and soon. Coming to terms with this reality was the hardest thing I've ever had to do in my life.
As I struggled to control my emotions, I was deeply concerned about Brian's feelings. How was he coping? Did he believe he was dying? It was a question I dared not ask him. For the first time in our life together, there was an elephant in the room.
Starting the Conversation About Death
With the thought of Brian's death ever on my mind, I desperately needed to talk about it. The problem was I had no one to talk to. Brian lived in hope of a cure and our three children were not ready to accept that their father was dying.
As wife and mother, I endeavored to remain strong for everyone, but it was incredibly hard to do when I was feeling so broken. At times, the burden of my grief became so overwhelming that I found it difficult to cope with everyday life.
Thankfully, Brian's sister Pat turned out to be the one person with whom I could unleash my inner turmoil.
Whenever we came together, which was usually once week, we found an opportunity to talk about Brian and how his disease was progressing. I also discussed my fear that I would not be able to cope with watching him die.
Though our conversations always ended with me crying my heart out, the relief that came with it was beyond measure. So too was my gratitude toward Pat, who always rose above her own grief to comfort me.
Brian Was Ready to Talk About Dying
Now that I had addressed Brian's death with Pat, I felt better able to cope with what lay ahead. But I could not help but wonder how Brian was coping. It had become obvious he was not going to get better.
Did he need to talk about dying? How could I encourage him to do this?
Fortunately, I didn't have to. Shortly before his courageous battle with mesothelioma came to an end, he began talking about dying. It started with a question: How many Christmases had he celebrated since his diagnosis? It was an especially poignant question because he asked it on Dec. 20, 2001 — just two years after his diagnosis and a few days before Christmas, which had always been his favorite time of year.
Hoping against hope that he'd be with us for Christmas that year, I answered "Three."
My heart missed a beat when Brian replied, "I don't think I will be here for another."
Hearing this, I could have said of course he would, but I realized Brian wanted and needed to talk to me about his death. As sad as the moment was, I was so grateful for it because I knew Brian had accepted his fate and was at peace with it.
Now that I was able to talk to him about my plans for his funeral, I was greatly relieved when he agreed with my decision. Thanks to Pat, who was again there to support me, I decided on a beachside memorial to celebrate his love of the sea. Afterward, we would hold a private cremation only for family members.
Despite the strongest of wills, Brian did not get to celebrate Christmas that year. He died on Christmas Eve, just a few hours short of his favorite day of the year. The pain of losing the beautiful man who had been my husband, lover and best friend for 37 years was deeper than I could have imagined.
But I found peace knowing he was no longer in pain.
Moving on with Life
Grief is a personal journey.
Widowed at 51, I felt like my life was a jigsaw puzzle with half the pieces missing. Over the years, I have put that jigsaw puzzle back together, but it will never be the same.
No matter what happens in my life, I will always love and miss Brian. I know you don't get over grief. But you learn to live with it, and this is okay.
Knowing I was able to discuss his impending death with his sister and Brian helped me heal and move on with my life.
Get Access to Free Resources for Patients & Loved Ones
Free Mesothelioma Resources