Health & Wellness
Healing Through Pictures After a Mesothelioma Diagnosis
Fact Checked
Our fact-checking process begins with a thorough review of all sources to ensure they are high quality. Then we cross-check the facts with original medical or scientific reports published by those sources, or we validate the facts with reputable news organizations, medical and scientific experts and other health experts. Each page includes all sources for full transparency.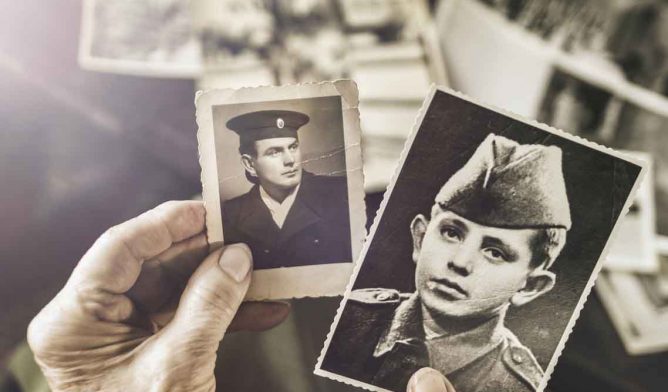 The old adage "a picture is worth a thousand words" rings true every time I leaf through our family photo albums. It seems looking at old pictures has become a tradition at every family gathering since Dad lost his battle with mesothelioma.
The images take me back in time, recreating fond memories in my mind. My siblings and I use our old photographs to maintain an intimate connection with each other and our father.
I've enjoyed snapping and posing for photos for as long as I can remember.
My dad used to snap pictures of me using his old Polaroid camera. I could barely contain myself as he would shake the picture, hastening its development. I think he enjoyed taking the photos as much as I enjoyed being the center of his attention.
I recently attended a lecture on therapeutic photography and PhotoTherapy (not to be confused with photodynamic therapy, a type of targeted cancer treatment). A mental health therapist talked about using photography in a clinical setting and as a means of self-exploration and resolving negative emotions.
I hadn't realized how therapeutic pictures and photography could be. Similarly, I wasn't aware taking pictures and viewing photographs were techniques in therapy.
Therapeutic Photography and PhotoTherapy
Judy Weiser is a globally recognized frontrunner in therapeutic photography, PhotoTherapy and many related techniques.
Weiser is the founding director of the PhotoTherapy Centre in Vancouver, Canada. Her informative website illuminates numerous aspects of therapeutic photography and PhotoTherapy. She highlights the similarities and differences between the two.
Therapeutic photography refers to healing activities people engage in outside a clinical setting, without a psychologist or therapist. Therapeutic photography can include taking pictures, posing for pictures, looking through albums and discussing photos.
PhotoTherapy, on the other hand, involves a client and a mental health professional in a clinical setting. Using family photo albums and other personal pictures, a mental health professional can help people reflect on the images and explore their emotions.
Together, the client and therapist can gain insight into any negative feelings and underlying problems that surface when exploring the photos.
Therapeutic Photography for Families Affected by Cancer
Families affected by mesothelioma understand how impactful aggressive cancer can be. The cancer touches every member of the family in one way or another.
My family uses photos to reminisce about the good times we shared together, and the tough times too. Nestled within the pages of our family albums, we find our smiles, strength and courage.
Therapeutic photography may help families by improving communication and strengthening relational bonds. While looking at pictures can be lighthearted and fun, it can also cause powerful emotions to surface. The photos may be reminders of sad or painful experiences, or a lifestyle that is in the past.
If families become overwhelmed by the issues that come to light through their pictures, they can seek assistance from a counselor trained in PhotoTherapy or another helping professional such as a counselor in The Mesothelioma Center's support group.
Photo-Related Activities Anyone Can Try
Photography can be both enlightening and enjoyable.
Perhaps the best thing about photography is its inclusivity. People can use any camera available, even an old Polaroid or a cell phone camera. There is no particular training involved. Anyone can participate including friends, siblings, parents, grandparents and children.
Backyard photo shoot: Gather the family or snap photos alone — the choice is yours. Grab a few props like hats, glasses or scarves and head on out the door. Even a rainy-day photo shoot is bound to capture some memories.
Family photo swap: Plan a small family get-together in which each member brings a photo. Any image will work, like old school pictures, recent family photos, even pictures of beloved pets. Share some old memories while you are making a few new ones.
Old album search: Most families have old albums stored in the basement, attic or garage. Bring a few albums out, and leaf through them together. See how many people you recognize, and reminisce about the good old days. Most important, share some memories and laughs.
Families affected by mesothelioma may feel overwhelmed with emotions, treatment options and the need to plan for caregiving and financial needs. It is vital to focus on familial strengths during difficult times.
Therapeutic photography is a powerful way to tap into those strengths and remind family members of their bonds.
I keep a photo of my dad and me taped to my desk. It serves as a reminder that I carry my father's strength with me. I look at the picture every day, and whenever I have a terrible day, the image makes the most impact.
I can take a moment to gaze into my father's eyes and almost hear his voice saying, "Don't give up. I know you can do this."
Free Mesothelioma Resources
Get Access to Free Resources for Patients & Loved Ones