Cancer & Caregiving
Baseball Therapy: Easing Cancer Worries at the Ballpark
Fact Checked
Our fact-checking process begins with a thorough review of all sources to ensure they are high quality. Then we cross-check the facts with original medical or scientific reports published by those sources, or we validate the facts with reputable news organizations, medical and scientific experts and other health experts. Each page includes all sources for full transparency.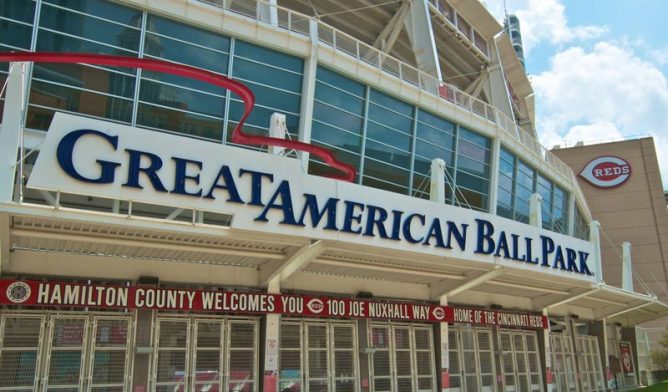 I distinctly remember the crackling sound of the radio as my father listened to baseball games on many Saturday afternoons.
Dad was a lifelong, die-hard Cincinnati Reds fan.
In all his 45 years, I can count on one hand the times he missed a Reds game. Win or lose, my father would always cheer them on.
We ventured down to Riverfront Stadium at least once each summer to watch a game.
Usually, we got cheap seats in the nosebleed section, but it never mattered to me. I just enjoyed seeing all the people, the smell of stadium hotdogs and singing "Take Me Out to the Ballgame."
The summer of 1993 was no different for my father.
Despite his mesothelioma diagnosis, Dad didn't miss seeing the Reds play that year.
It was a bit different for us, but he was still there, cheering for his favorite team. Dad needed a break from cancer treatments, medications, doctors and hospitals.
All of it was just too much. He just wanted to be a regular baseball fan.
Somehow, that game rejuvenated his soul.
Reclaiming Joy Despite a Cancer Diagnosis
Dealing with cancer can be overwhelming at times. Cancer patients and their caregivers may feel bombarded by the diagnosis, treatment options and changes in their daily lives.
It is easy to get caught up in the demands and challenges of treatment. People dealing with cancer may forget the little things in life that give them joy.
Sometimes it is helpful to reclaim the happiness found in life's little gifts.
It could be a piping hot cup of coffee first thing in the morning, the sun rising over the horizon, or the perfect cheap seat in a baseball stadium.
Cancer patients and their caregivers must maintain their physical health as well as their mental well-being.
My father found his joy in the crack of a bat and the roar of the crowd. Baseball helped Dad feel better, despite dealing with mesothelioma.
Is Attending a Major League Baseball Game Out of Reach?
Attending a sporting event at a stadium may seem out of reach for certain cancer patients and caregivers.
For some advanced-cancer patients, the walking, outdoor weather and sheer crowd size may feel overwhelming.
If physical limitations or medical restrictions interfere with your ability to attend a game, it might help to explore other options.
Attend a Local Event: If watching a game in a crowded stadium is overwhelming, it might help to scale it down a bit. Local high school and Little League games might be a better fit. Smaller fields have all the nostalgia of America's favorite pastime, but on a more approachable level.
Host a Baseball Party: Some patients undergoing cancer treatment may not feel up to leaving home to attend a ballgame. Throwing some burgers or hotdogs on the grill, roasting some peanuts, and gathering around the living room to cheer on your favorite team may lift everyone's spirit.
Listen to a Game the Old-School Way: For those not feeling up to having company, or getting out and about, listening to their favorite team on the radio can bring back fond childhood memories. Hearing the excitement in the announcer's voice and the stadium ambiance can positively impact a person's mood.
When nothing else but an in-person baseball experience will do, there are ways to avoid all of the hassles of attending a game by taking advantage of ballpark accommodations.
Take Advantage of Special Accommodations
For some baseball fans facing cancer, nothing but a view from the stands will be enough.
In such cases, a little planning can make the trip much easier. Most stadiums and event facilities have special accommodations to meet the needs of all their patrons.
Many event coordinators go above and beyond the average wheelchair ramp and automatic door.
Great American Ball Park — home of the Reds — is not alone in their accommodations.
Accessible Parking: Most stadiums offer accessible parking spaces for visitors with mobility issues or other medical needs. These parking areas are located closer to entrances, making it much easier for patrons to access the facility.
Drop-Off and Pickup Zones: Many large venues have designated areas near the entrances as drop-off and pickup zones. Drivers can drop off their family members at the entrance and then go park their vehicle. For cancer patients, this accommodation eliminates excess walking through parking areas to get to the stadium.
High-Tech Assistance: Some facilities offer mobile assistance to patrons. By simply texting a specific number on a mobile device, baseball enthusiasts can reach security professionals, access park information and even order concessions.
Mobility Assistance: Many ballparks offer free mobility assistance for patrons with physical limitations. Park employees can assist patrons to their seat using a wheelchair, and then help them get back to their vehicle after the game.
Baseball fans who happen to live with cancer don't have to give up rooting for their favorite team.
Whether watching television, listening to the radio or attending a live event, fans can reclaim their joy in America's favorite pastime.
With a little planning, the seemingly impossible can be within reach. When planning to attend a major sporting event, it is also important for cancer patients and caregivers to check with their oncology team.
Doctors can help plan for cancer-related needs people might otherwise overlook such as sun exposure, oxygen use and treatment planning.
Get Access to Free Resources for Patients & Loved Ones
Free Mesothelioma Resources