Cancer & Caregiving
DIY Tips, Inspirational Mesothelioma Survivors Among Top Blogs for 2018
Fact Checked
Our fact-checking process begins with a thorough review of all sources to ensure they are high quality. Then we cross-check the facts with original medical or scientific reports published by those sources, or we validate the facts with reputable news organizations, medical and scientific experts and other health experts. Each page includes all sources for full transparency.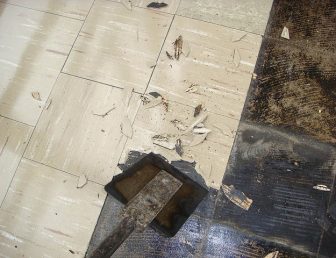 The renovation or remodeling of older homes can be a risky business with the asbestos often used in the floors and ceilings throughout much of the 20th century.
Some of our top blogs of 2018 addressed those issues, offering guidance for the do-it-yourselfers and small businesses who handle those jobs.
We also had inspiring examples of mesothelioma survivors who overcame the hardships that often accompany a diagnosis.
They offered advice and provided hope for those with this aggressive cancer caused by exposure to asbestos.
There was also a mesothelioma caregiver and her must-read account of a 10-year journey with the disease.
Asbestos Flooring Dangerous with Renovations
Anyone renovating an older home should be aware vinyl asbestos flooring can be dangerous to remove without taking proper precautions.
Toxic dust with microscopic asbestos fibers can be released into the air, where it can be easily inhaled or ingested, leading to serious health issues, including mesothelioma.
Asbestos was a popular additive in vinyl flooring products through much of the 20th century, making most everything stronger and more heat resistant.
Unfortunately, when it is disturbed many years later, it can be toxic and cause cancer.
Beware of Older Popcorn Ceilings
In an older home, it might be a good time to take a closer look at that "popcorn ceiling."
Asbestos may be lurking up there.
The spray-on textured ceilings which were popular from the 1950s to the 1980s were typically 1 to 10 percent asbestos.
You can purchase a test kit or hire an abatement professional to find out about your home.
Mesothelioma Survivor Says Advocate for Yourself
Mesothelioma survivor Jayda K. was her own biggest advocate four years ago.
She is alive today because of it.
With her persistence, Jayda helped doctors finally recognize what her problem was — peritoneal mesothelioma — after everyone kept telling her it was far less serious.
Her never-quit attitude led to an earlier-than-normal diagnosis, aggressive treatment and a much-brighter future.
Keytruda Gives Mesothelioma Survivor New Life
Mississippi resident Randy Boudreaux credits his resurgence as a pleural mesothelioma survivor to Keytruda, the immunotherapy drug still not approved by the U.S. Food and Drug Administration.
Thanks to the Ochsner Cancer Center in New Orleans, Boudreaux received the drug through the FDA's Expanded Access Program, allowing him to thrive again after chemotherapy stopped working.
Instead of struggling to catch his breath after a simple walk to the mailbox, Boudreaux is feeling good about touring the neighborhood at a much brisker pace.
Survivor Believes Trial Drug Saved His Life
When first diagnosed with peritoneal mesothelioma, David Broyles worried about living long enough to see the birth of his daughter.
In 2018, he watched his daughter graduate from college — 22 years later. He is living proof that miracles happen.
After two cytoreductive surgeries and a clinical trial involving a combination of chemotherapy and the experimental drug Onconase (ranpirnase), Broyles continues going strong and defying the odds.
Family Keeps Two-Time Mesothelioma Survivor Strong
Randy Jarreau might be the luckiest, unlucky guy there is.
The Baton Rouge resident battled through cases of peritoneal and pleural mesothelioma.
Jarreau has become a beacon of hope for many by overcoming a double disaster in his quest to become a better husband, father and son.
Mesothelioma Caregiver Offers Words of Wisdom
Caregiver Linda Chitwood, who lost her husband in 2017 after a 10-year battle with pleural mesothelioma, wants others to know a diagnosis of this aggressive cancer doesn't always mean an end to the good times together.
The original diagnosis was dismal. But their ending was not.
Chitwood wrote about miracles happening, hope continuing and honeymoons being relived with her husband during that decade that changed their lives.
Peritoneal Survivor Motivated by Family and Lifestyle
Dinner reservations at one of the country's finest restaurants provided all the motivation Darlene Micciche needed to recover quicker than many expected from peritoneal mesothelioma surgery.
She arrived for dinner with a smile. A week later, she was trick-or-treating on Halloween with her grandson.
"I told everyone I was going to make that dinner," she said. "And I had a good time."
Debunking the Myths About Chemotherapy
Dr. Raja Mudad at the Sylvester Comprehensive Cancer Center debunks some of the myths about the chemotherapy used in the treatment of mesothelioma.
"Most patients are usually apprehensive about taking chemotherapy because of this misconception [about awful side effects]," he said. "Nowadays, we have better drugs to prevent side effects."
Mesothelioma Survivor Turns to Keytruda, CBD Oil
Pleural mesothelioma survivor Jim Huff makes the 65-mile trip to the UCSF Medical Center every three weeks for infusions of Keytruda, the immunotherapy drug working so well for many lung cancer patients.
It is working for him, too. He has continued with his twice-daily doses of CBD oil.
"I think I can get another 10 years out of this," he said.
Get Access to Free Resources for Patients & Loved Ones
Free Mesothelioma Resources