Treatment & Doctors
New York Proton Center Advances Mesothelioma Treatment
Fact Checked
Our fact-checking process begins with a thorough review of all sources to ensure they are high quality. Then we cross-check the facts with original medical or scientific reports published by those sources, or we validate the facts with reputable news organizations, medical and scientific experts and other health experts. Each page includes all sources for full transparency.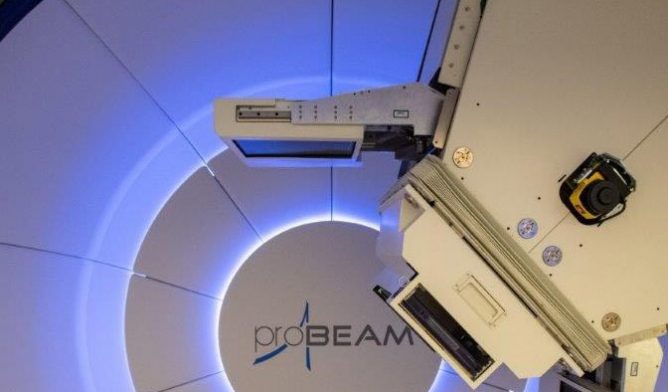 The recent opening of the New York Proton Center could change the natural history of pleural mesothelioma cancer.
Yes, this facility comes with groundbreaking potential.
The New York Proton Center, located in East Harlem, is a $300 million, 140,000-square foot, state-of-the-art facility dedicated to providing cancer patients with the finest radiation treatment in the world.
It began treating patients this month. It is the first and only proton center in the state of New York, and one of the few in the world offering the latest pencil-beam scanning proton therapy. It offers the ability for us to directly visualize the tumor before each treatment.
Our facility will improve the way pleural mesothelioma is treated.
What Is Proton Therapy?
In simple terms, proton therapy is a highly targeted and more precise form of radiation therapy.
Proton therapy can deliver radiation more safely for mesothelioma patients, too. It now can be used more effectively as one of the primary tools, along with surgery and systemic therapy, for treating this asbestos-related cancer.
An improvement that could be life changing for patients. When you compare how other cancers in the chest, such as non-small cell lung cancer, thymic cancer and others, respond to radiation therapy, mesothelioma responds well to the treatment.
But historically, it has been difficult to deliver radiation therapy safely for mesothelioma outside of a palliative setting.
In a definitive setting, either after surgery or in patients progressing in multiple sites of disease after systemic therapy, we would need to treat a large target volume such as the pleura surface covering the entire thorax.
But using older techniques to deliver radiation therapy to such a large volume can have significant toxicities.
A Safer, More Effective Option
With the ultraprecise proton therapy, we can more safely deliver high radiation doses in large treatment volumes needed to effectively treat this cancer.
Radiation can be much more effective in treating the disease if delivered safely, and that's what proton therapy allows us to do.
In even the most challenging cases, such as complex tumors located near vital organs, our proton therapy can minimize the impact on healthy tissue and organs.
Unmatched Experience in Proton Therapy
We started treating patients in August, and we have hit the ground running, ramping up quickly. Everything has gone smoothly, and there is a reason for that.
Typically, when a new proton center opens, it has only one or two physicians with experience using proton therapy.
We have 15 physicians with experience using proton therapy as well as our medical physics, treatment planning dosimetrist and radiation therapy teams.
The center has put considerable time, effort and expense recruiting leaders in the field of proton therapy. They wanted to be part of this facility.
Plenty of new proton centers would have waited a year to take on something as complex as mesothelioma cancer, but it's a condition we were ready to tackle immediately. Our team here has a ton of experience with mesothelioma.
There are 32 proton centers in the United States, but we are pretty unique among them. Most are using first-generation technology that cannot adequately treat the entire pleura as needed for mesothelioma.
We are one of the few centers in the world that can.
Will Attract Patients Worldwide
The majority of our patients, at least at the start, will be coming from Memorial Sloan Kettering, Mount Sinai and Montefiore, which are our partners in New York City.
Each of these centers already have great mesothelioma programs that can now be even greater.
Some of centers' physicians, many of whom already have proton experience, will be coming here, to the New York Proton Center, to treat their patients. We put those doctors with lesser experience through a rigorous proton training program.
Once word gets out, we will be getting plenty of referrals, too. I fully expect we will be seeing patients from across the country and around the world. In the first two weeks alone, we have had three international patients treated at our center.
That's not surprising.
Our advanced technology and significant proton therapy experience will allow us to treat more complex, difficult to treat tumors than any other center of its kind.
Extending Survival Times
With traditional radiation, when treating such a large area often needed for mesothelioma, it exposes the opposite lung, the heart, and the esophagus to a lot of unnecessary radiation that can lead to side effects that will limit quality of life and even be life threatening.
That is how I explain it to patients.
Proton therapy is unique because the radiation stops where we want it to stop with millimeter accuracy.
Because of that precision, the opposite lung gets essentially zero radiation. For the most part, the heart gets zero radiation as well. The esophagus gets a lot less radiation that usual.
With proton therapy, we are really able to control disease more safely. And not just for palliate symptoms. Proton therapy allows us durable local control, which can delay the need for systemic therapy and improve outcomes for our patients.
Controlling disease locally can improve survival significantly. In my prior experience using proton therapy for mesothelioma, I saw patients with very good outcomes and prolonged survival, even for advanced stage patients.
Mesothelioma is a local disease until the very last stages. If we can control that local disease and make sure it does not grow locally with proton therapy, we can change the natural history of this cancer.
Medically Reviewed by Top Mesothelioma Doctors
Free Mesothelioma Guide