Cancer & Caregiving
Effects of a Mesothelioma Diagnosis on Relationships
Fact Checked
Our fact-checking process begins with a thorough review of all sources to ensure they are high quality. Then we cross-check the facts with original medical or scientific reports published by those sources, or we validate the facts with reputable news organizations, medical and scientific experts and other health experts. Each page includes all sources for full transparency.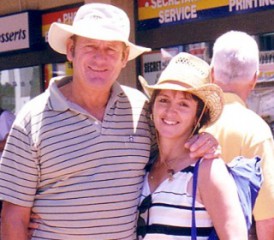 When times are tough, it is comforting to know that friends will be there to offer support.
Sadly, that is not always the case. I discovered this after my husband Brian and I learned he was terminally ill with mesothelioma.
Not wanting to keep his condition secret, Brian was upfront with family members, friends and acquaintances about his illness and his life expectancy of three to nine months.
As word of Brian's plight spread around town, we noticed that people were uncomfortable in our presence. Some would choose to cross the road rather than greet us.
This behavior became even more obvious at our local bowling club where we were met with silence rather than the usual cheerful welcome.
When we joined a group of teammates at the bar, conversations shifted, and no one seemed willing to look us in the eye.
This hurt me deeply.
A Terminal Illness Does Not Change Who You Are
Brian's diagnosis did not change who we were, but it continued to change the way we were treated.
About a week after the incident at the bowling club, a couple Brian and I had been close to for years came to visit. It did not take long for us to notice that they seemed uncomfortable in our presence.
When we questioned them, they said they no longer knew how to act around us. Brian and I encouraged them to interact the same way they always had.
Regretfully, they seemed unable to do so. They rarely came to visit after that day, and our fishing trips and good times together gradually came to an end.
They were not the only friends who distanced themselves from us in our time of need. If not for John, the one true friend who stood by us, I don't know what I would have done. He selflessly gave his time and energy several times a week to make Brian's wish to go fishing a reality.
Anyone wondering what to do or say around people with a life-limiting illness should know that the thing they want and need most is to be treated in the exact same manner as always.
Regardless of a terminal diagnosis, their personality remains the same. There is still the need for laughter and good times even when there are tears.
How Brian's Terminal Diagnosis Affected Me
Living in expectation of Brian's death for the two years of his survival was torture.
Along with the heartache of knowing that our time together was coming to an end, there was the unwelcome acknowledgment of death. It was in my life and on my mind.
Though Brian fought on, I knew death was waiting. Sometimes I could even sense it. Writing my emotions down — often in the form of poetry — was my only relief.
The Fear of Dying
As I bore witness to Brian's brave struggle to survive, I came to accept that life is a gift that can be taken from us at any time, regardless of how hard we fight to prolong it.
The realization made me uncomfortably aware of my own mortality. I put off going to the doctor for my regular health checks for fear that I, too, might be diagnosed with a terminal disease.
Reflecting on my reaction to Brian's terminal diagnosis, I believe the reason some people avoid being in the company of the dying is because they do not want to be faced with their mortality.
Another reason might be that they feel helpless, something I could definitely identify with when I first learned of Brian's fate.
Fortunately, it did not take me long to realize that there was much I could do to help Brian, including working with his doctors to keep him out of pain.
Using information I sourced on the internet, I was able to put into place a pain and symptom-management routine that significantly improved his quality of life.
Brian continued to do the things he loved — including going fishing — until he became bedridden three short days before his death at the age of 54.
He died at home surrounded by his loved ones.
There are no words to describe the depth of my sorrow when Brian took his last breath, but I found peace in the knowledge that I had helped him "live" until he died. It was by far the most precious gift I could ever have given him.
Caregivers Have Needs, Too
Caregiving for a loved one who is terminally ill is a harrowing experience.
A listening ear and a warm hug given by a caring friend can have a profound impact on a caregiver's ability to cope with the physical and emotional strain placed upon them.
Living alongside and caregiving for a loved one who is dying is challenging beyond measure, but through this selfless act we learn what it is to be humble.
We get to appreciate the true meaning of love and devotion.
Get Access to Free Resources for Patients & Loved Ones
Free Mesothelioma Resources