Health & Wellness
Reintegrating After COVID Isolation: Tips for Mesothelioma Patients
Fact Checked
Our fact-checking process begins with a thorough review of all sources to ensure they are high quality. Then we cross-check the facts with original medical or scientific reports published by those sources, or we validate the facts with reputable news organizations, medical and scientific experts and other health experts. Each page includes all sources for full transparency.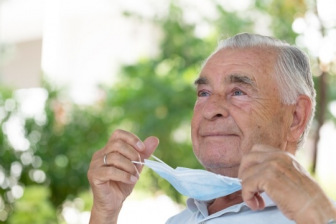 For the past year, we have all been struggling with a threatening and disruptive global pandemic.
We have learned to live with wearing masks, being socially isolated from our family and friends, feeling the effects of economic instability, having our daily routines disrupted and the overwhelming fear of catching the COVID-19 virus.
Medical and mental health professionals are reporting that many long-term consequences of the pandemic are still unknown. However, several recent studies on the psychological impact of COVID-19 have demonstrated that fear, anxiety, sadness and social isolation have taken a toll on emotional health throughout the country and the rest of the world.
Cancer Patients Face Increased Risks
Families dealing with cancer, including mesothelioma, have been coping with additional challenges. Mesothelioma patients who are immunocompromised are at increased risk of poorer outcomes should they test positive for COVID-19.
Pleural mesothelioma patients are at greater risk for complications because the COVID-19 virus can cause breathing difficulty and significantly affect lung function.
Throughout the pandemic, when restrictions were strictly imposed in health care settings, loved ones were not able to accompany mesothelioma patients to doctors' appointments or treatments.
Accessing emotional and social support for caregivers and mesothelioma patients was more difficult due to restrictions on gathering with family and friends. Mesothelioma patients also had to adjust to some of their medical care being provided through telehealth and not having visitors if they were hospitalized.
Dealing with Fear and Anxiety
Since COVID-19 vaccinations are now widely available here in the U.S., many of the COVID-19 restrictions are being lifted. People are slowly getting out of the house, back to their workplaces, and are gathering with family and friends in homes, restaurants and in public venues.
Mesothelioma patients and loved ones are probably eager to put the restrictions behind them but may struggle with fear and anxiety as they try to navigate this new world. Many are not yet comfortable discarding their masks and resuming normal social or work activities.
There are still unknown risks for mesothelioma patients from COVID-19 variants, even for those who are vaccinated. Caregivers may fear being asymptomatic carriers of COVID-19 and not want to expose their loved one with mesothelioma to the virus.
Many people have developed some social anxiety due to being isolated for over a year. It can feel a little uncomfortable being around each other in person again.
Readjusting After Social Isolation
Reintegrating after COVID-19 isolation will take some time and is an individual journey, whether you have mesothelioma or not. We have come up with some tips to help people readjust after so much social isolation.
Venturing Out
Accept that it is going to feel a little strange to see faces again without masks and to be in close proximity to others.
We have spent over a year hearing messages about the importance of wearing masks and keeping a safe distance from others. Those messages have been internalized and you can expect to feel some awkwardness or even a little anxiety as you venture out into your community again.
Staying Safe
Keeping yourself safe from the COVID-19 virus will likely be based on your own individual risk factors. These factors include the percentage of people in your region who are vaccinated and the number of positive COVID-19 cases in your area.
You also need to be aware of your health risk factors, whether it's a mesothelioma diagnosis or any other health conditions such as autoimmune diseases, respiratory diseases, etc. Those risk factors will determine what steps you need to take to stay safe. You should definitely talk to your doctor about what precautions to take.
Easing into Social Situations
Take baby steps when it comes to easing back into social activities or situations that you have avoided for a while. Our social skills are like muscles that can atrophy without being used, so it is going to take a little bit of readjustment to get used to social situations again.
For instance, if you haven't eaten at a restaurant since the beginning of the pandemic, you should choose one with outdoor seating or go when it is likely to be less crowded so you aren't overwhelmed being around so many people.
If you are feeling a little socially awkward after so much social isolation, reintegrate with family or friends who are understanding and accepting of your COVID-19 concerns and will not pressure you to take off your mask or go somewhere that feels too risky.
Just as it was challenging to adjust to the social and movement restrictions placed upon us all by the COVID-19 pandemic, it will also take some adjustment as we slowly get back normal. Your path to reintegration will be specific to your own situation and risk factors.
Free Mesothelioma Resources
Get Access to Free Resources for Patients & Loved Ones