Asbestos Exposure & Bans
Biopersistant Nanotubes and Asbestos May Cause Comparable Internal Damage
Fact Checked
Our fact-checking process begins with a thorough review of all sources to ensure they are high quality. Then we cross-check the facts with original medical or scientific reports published by those sources, or we validate the facts with reputable news organizations, medical and scientific experts and other health experts. Each page includes all sources for full transparency.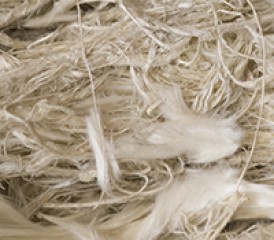 As a highly biopersistant fiber, asbestos can cause severe internal damage once inhaled. Research has shown that carbon nanotubes possess properties that are comparable to asbestos fibers, and a recent report comparing the two substances indicated that pristine carbon nanotubes may be able to elicit similar responses in the body.
Published in Particle and Fiber Toxicology, the 2011 report tested four types of carbon nanotubes for pathogenic factors. In vivo tests were performed on mice to determine how the body reacts to these substances. Results showed that certain types of carbon nanotubes can induce reactions that are also caused by asbestos, the natural carcinogen that is responsible for illnesses such as malignant mesothelioma.
For the observation, mice were injected with carbon nanotubes. Some of these fibers had been incubated in a simulated biological fluid for up to 24 weeks to mimic the conditions within a human body. Three of the four types of nanotubes were not broken down by the solution, indicating close to 100 percent durability.
The study revealed that short nanotubes were more easily expelled by the body, while long tubes and asbestos fibers were highly biopersistant and more difficult for the body to eliminate. A material's biopersistant quality is often indicative of its toxic potential because if the body is unable to remove a foreign substance, it can continue to cause internal damage.
When the nanotubes were in the form of long, discrete fibers, they caused significant inflammation and fibrotic responses after less than a week of exposure to the biological fluid. When the injection contained few or no long fibers, minimal inflammatory response occurred, even after they had been exposed to the fluid for more than 10 weeks. The response triggered by the long fibers was similar to the response induced by asbestos, and these long fibers were found to be unresponsive to the body's natural process of breaking down and eliminating the substances.
Researchers noted that while the smaller nanotubes were not found to cause serious damage in the peritoneal cavities of the laboratory rats, they still may negatively impact the lung itself.
The mesothelium, which becomes cancerous in cases of mesothelioma, is most sensitive to long fibers. Mesothelioma is typically caused by the inhalation of asbestos. All forms of asbestos can cause mesothelioma, but of all the asbestiform minerals, chrysotile has been found to be the least biopersistant.
Free Mesothelioma Resources
Get Access to Free Resources for Patients & Loved Ones