Support to Expand Asbestos Mine in Canada Tough to Find for Balcorp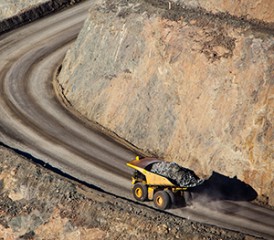 Baljit Chadha, president of Balcorp. Ltd., spent the past couple weeks trying to improve his tarnished image, meeting with various critics, government officials and media in Canada, hoping for support in his bid to re-open and expand an asbestos mine in Quebec.
It's not working.
The outrage against him — and his idea — is only growing.
Chadha wrote a first-person account in the Montreal Gazette earlier this week, detailing why the Jeffrey Mine expansion would be good for everyone involved, despite the overwhelming evidence that any amount of asbestos exposure can lead to mesothelioma cancer.
"As a mesothelioma widow, I am shocked and disgusted by your irresponsible, immoral, and reprehensible disregard for public health," Linda Reinstein, president of the Asbestos Disease Awareness Organization, responded to Chadha in her blog after reading the Gazette story.
"I told him I thought that what he's doing is morally and ethically reprehensible. I said that to his face," said Patrick Martin, New Democrat MP for Winnipeg Centre. "Either he doesn't get it, or he thinks we're stupid."
Balcorp Looks for Loan Guarantee
Chadha wants to secure a $58 million loan guarantee from the Quebec Industry Department for Balcorp., Ltd., to expand the mine, but the public outcry has been fierce from all across Canada. He also is still trying to raise $25 million in private funds to get the loan guarantee.
Balcorp, according to Chadha, intends to export all the asbestos that is mined, to developing countries like India, Malaysia, and several others in Africa and Southeast Asia. More than 90 percent of the asbestos currently being mined in Canada is shipped overseas.
More than 40 countries around the world already have banned any use of asbestos, and that number is expected to grow. Both Canada and the United States have dramatically restricted its use, which is heavily regulated without the ban.
Both the World Health Organization and the International Labour Organization have said that any amount of asbestos exposure can lead to health problems. According to the World Health Organization Monthly Bulletin (October, 2011), more than 92,000 people died worldwide from mesothelioma from 1994 to 2008.
Chadha's Editorial Rationalized Asbestos
In the editorial he wrote, Chadha ignored the almost unanimous belief that the use of asbestos around the world should be curtailed — and not expanded.
"As a successful entrepreneur, I am always looking for promising new ventures that may be profitable, and for products to sell where there is demand," he wrote. "In those terms, the Jeffrey Mine represents a good business opportunity that we project will be profitable for the 20-year life span of the mine."
He wrote that under Balcorp's direction, the mine will create 500 new jobs and generate $1.1 billion in salaries to employees, along with generating $330 million in government revenue.
He also rationalized that the positive qualities of asbestos – heat resistant, good strength, low cost and fireproof – outweigh the risks of using it in less developed countries. Much of it would be used in concrete, in building homes and businesses in other countries.
"We must be careful with asbestos. We must be mindful of the tragedy of past use," he wrote. "But we must learn from the past and evolve beyond it, not be hamstrung from moving forward by prior experience."
Chadha promised safe-handling procedures would be strictly followed in Canada and that it would be sold only to major manufacturers who also could afford and adhere to those safe-handling practices.
Critics contend that once the asbestos reached lesser industrialized countries, there are no guarantees on safe handling, opening the door for more unneeded suffering around the world. It often takes up to 30 years or more after the exposure to asbestos before symptoms of mesothelioma appear.
"We found that mesothelioma deaths are starting to decrease in the USA but are still increasing in Europe and Japan, reflecting the time lag following historical use of asbestos," said researcher Ken Takahashi in the WHO Bulletin. "The real concern is that many developing countries continue to use this deadly material but don't report data on the deaths that is causes."
---
Tim Povtak is an award-winning writer with more than 30 years of reporting national and international news. His specialty is interviewing top mesothelioma specialists and researchers, reporting the latest news at mesothelioma cancer centers and talking with survivors and caregivers.