Watch the 3rd Focus on Mesothelioma Conference from Home this Friday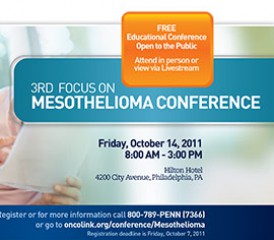 You don't have to travel to Philadelphia to reap the benefits of attending the 3rd Focus on Mesothelioma Conference this Friday from the Penn Medicine Abramson Cancer Center.
They can bring it all right into your home.
Through the beauty of livestreaming on the Internet, you can listen and watch a wide variety of mesothelioma experts present all the latest advancements and future hopes in the battle against this disease.
The Abramson Cancer Center at the University of Pennsylvania is a national leader in education, research and patient care, providing an expertise on mesothelioma that only a few other facilities in the country can match.
The conference, held at the nearby Hilton Hotel, will run from 8 a.m. to 4 p.m. this Friday, Oct. 14. In addition to watching it live, Internet users can participate in a web chat from 1:45 p.m. to 2:25 p.m. in which experts will be answering questions regarding risk, diagnosis and treatment. You can participate in the webchat by clicking this link or through Twitter using hashtag #MesoACC.
Transcripts of the live web chat will be available.
Mesothelioma is a rare cancer that is diagnosed in an estimated 2,000 to 3,000 people each year in this country. It is caused almost exclusively by an exposure to asbestos. Although advancements in treatment are being made, there is no known cure.
Daniel Sterman, M.D., and Joseph Friedberg, M.D., from Abramson, are serving as co-chairs of the Conference. Friedberg is the chief of Thoracic Surgery. Sterman is the director of the PENN Interventional Pulmonology Program.
In addition to surgeons and researchers from the Abramson faculty, the conference will have several guest speakers, including Lee Krug, M.D., from Memorial Sloan-Kettering Cancer Center in New York.
In the morning, there will be sessions on Chemotherapy for Mesothelioma; Radiation Options; Innovative Surgical Treatments (Pleural Mesothelioma); Immunotherapy and Gene Therapy's Role in Treatment of Pleural and Peritoneal Mesothelioma; and The Latest in Translational Research.
The afternoon sessions will include Collaborative Efforts in Research and Treatment; Survivor Stories and Patient/Family Resources; Resilience Therapy and Coping Skills; Importance of Physical Conditioning in Tolerating Treatments; Yoga; and Mindfulness Therapy.
After each session, the speakers will answer questions from the audience in attendance.
The state-of-the-art Abramson Cancer Center provided over 33,000 chemotherapy treatments and more than 66,000 radiation treatments last year.  The center is home to more than 400 basic, translational and clinical scientists studying cancer.