Hawaii Cancer Center Hosting Symposium on Genetic Predisposition for Mesothelioma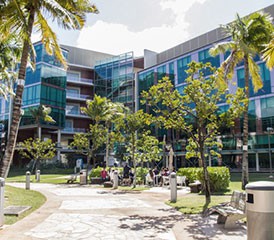 The University of Hawaii Cancer Center, which continues to grow in prominence, will host an international symposium next month to explore the rapidly-expanding topic of genetic predisposition to mesothelioma.
More than 20 experts from around the world will gather Dec. 2 for the Third Annual Translational Cancer Medicine Symposium at the nearby Queens Medical Center.
New information will be released regarding the recent discovery of the BAP1 genetic mutation and its link to the cancer.
It was the research team earlier this year at the Hawaii Cancer Center, led by director Michele Carbone, M.D., that first uncovered details of the BAP1 gene mutation and its tie to mesothelioma.
More than 50 percent of the mesothelioma-specific research funding from the National Cancer Institute has gone to the University of Hawaii, particularly because of Carbone, who has studied the disease in different parts of the world.
An estimated 2,000 to 3,000 people annually in the United States are diagnosed with mesothelioma.
"We're excited to bring these experts to Hawaii to work together and find ways to reduce the suffering and death from cancers caused by this mutation," Carbone said in a statement from the UH Cancer Center.
The BAP1 syndrome comes from inherited mutations of the gene, according to Carbone's research. And carriers of the mutation, if they are exposed to asbestos, have a good chance of developing asbestos cancer, melanoma and other carcinomas.
The BAP1 study was first published in Nature Genetics on Aug. 28, 2011. The discovery is expected to help provide a new tool for doctors to identify people that are predisposed to develop mesothelioma, which should lead to an earlier diagnosis, or even the ability for patients to utilize preventative measures against certain cancers.
Because the cancer has such a long latency period (10 to 50 years) and early symptoms typically mirror those of less serious respiratory illnesses, the prognosis is usually bleak once it is positively identified.
Mesothelioma cancer normally spreads through the delicate membrane that surrounds the lungs, heart or abdomen. There is no known cure and only an estimated 10 percent of those diagnosed live for another five years. Patients typically only live from six to 18 months after diagnosed.
The keynote speaker at the symposium will be Carlo M. Croce, M.D., director of the Human Cancer Genetics Program at Ohio State University. Also presenting will be Carbone, along with Joseph Tesa, Ph.D, director of the Genomics Facility at Fox Chase Cancer Center.
The one-day event is aimed primarily at researchers and healthcare professionals.