Veterans & Military
Veterans Day Tribute: Surviving Pearl Harbor and Mesothelioma
Fact Checked
Our fact-checking process begins with a thorough review of all sources to ensure they are high quality. Then we cross-check the facts with original medical or scientific reports published by those sources, or we validate the facts with reputable news organizations, medical and scientific experts and other health experts. Each page includes all sources for full transparency.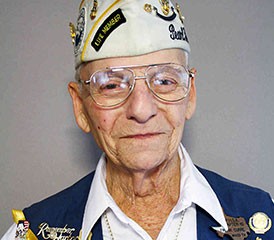 After surviving the horror of Pearl Harbor 70 years ago, surviving mesothelioma never seemed that tough to Frank Curre.
He did both, rather admirably.
Curre, 88, celebrated Veterans Day on Friday like most every other day, reading his morning paper, and reliving the death and destruction he witnessed Dec. 7, 1941, aboard the battleship USS Tennessee.
It was the day the United States was drawn into World War II. The day after Japan bombed the U.S. fleet at Pearl Harbor with a dawn raid, Congress declared war at the urging of President Franklin D. Roosevelt.
Curre shared his story recently from Waco, Texas with National Public Radio.
"I still have nightmares, never got over the nightmares. What happened on that day is tattooed on your soul," he told NPR. "There's no way I can forget it. I wish to God that I could."
From High School to War
Curre was just 17 years old, having graduated from high school that spring. When he was unable to find employment, he begged his mother to sign enlistment papers, putting him into the U.S. Navy.
He was shipped off to Hawaii, believing he was headed to paradise island. What he found were the horrors of war.
"The day of the attacks, I was mess cooking. We hear this big blast — instantaneously, another blast — and we come up topside. I saw the first god-awful sight I witnessed that day," he said. "That's when the bomb come down that hit the Arizona."
The attacks, coming in two waves, killed 2,402 Americans that day, wounding another 1,282 others. Four battleships were sunk and four others were damaged.
Three U.S. cruisers, three destroyers and an anti-aircraft training ship also were either sunk or damaged that day.
It came as a stunning shock to America, where strong domestic support for isolationism was replaced immediately by active alliance with Great Britain, which already was involved with the war.
Curre saw the start of America's involvement, up close and too personal.
"That ship [the Arizona] come 12-15 foot in the air, broke in two and settled back down," he said. "If you had a bag of popcorn, and you went out here in the breeze now and threw it up in the air — those were bodies that went out all over the harbor."
Mesothelioma Likely Traced to Navy
Curre's mesothelioma likely traces to his service in the Navy and an exposure to asbestos. An estimated one-third of all mesothelioma cases in the United States are military veterans. Although all branches of service used asbestos, the Navy's use of it has proven to be the most extensive.
Here is NPR's audio version of the story, including an interview with Curre.

Free Mesothelioma Guide
Comprehensive Information for Veterans with Mesothelioma