Asbestos Exposure & Bans
New York Firefighters Concerned After Asbestos Confirmed at Firehouse
Fact Checked
Our fact-checking process begins with a thorough review of all sources to ensure they are high quality. Then we cross-check the facts with original medical or scientific reports published by those sources, or we validate the facts with reputable news organizations, medical and scientific experts and other health experts. Each page includes all sources for full transparency.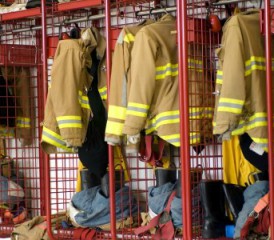 Firefighters in Lackawanna, New York, are concerned after tests confirmed that asbestos fibers are present in the firehouse where they work. The firemen were evacuated Saturday from Fire House 3 at 2990 South Park Ave. after two samples tested positive for asbestos.
Large amounts of dust in the air was first noticed by the firefighters, which then sparked testing of the air samples. That led to the evacuation.
On Monday, firefighters spoke at Lackawanna City Council meeting, voicing their concern about getting the situation properly corrected and ensuring that their health is not in danger. Asbestos exposure is believed to be caused from abatement work conducted back in November on the building's piping and boiler system.
"We should've been out of the firehouse immediately upon knowing there were dangerous levels of asbestos present," said Thomas R. Mendez, president of Local 3166, Lackawanna Professional Firefighters Association.
The firemen are concerned because of the known danger that asbestos exposure causes. Since the 1960s, it has been proven that this exposure can cause mesothelioma, a rare cancer of the lining of the lungs, in addition to other asbestos-related diseases. Because of the fatal nature of this disease, frequent diagnostic testing is recommended to those who may have potentially been exposed.
Lackawanna firefighters will likely be encouraged to receive testing for exposure because of the severity of the air sample test results. According to Lt. James J. Fino, the test results showed "astronomical levels of asbestos."
"It's a huge concern for all of our members. We've been in there up until Saturday."
In the line of public service, asbestos exposure is not a rare occurrence for firemen. As it may come at little comfort to the fire team of Lackawanna, their occupation does involve interaction with asbestos more often than they would like.
Asbestos and Firefighters
Between the frequent dangers of entering fire-blazing buildings that are often constructed with asbestos, to using potentially asbestos-containing materials on a daily basis, to the reality that many firehouses themselves are constructed with the toxic material, these workers are undoubtedly at an increased risk of health issues. This has become evident through countless events in recent history.
One of the most notable cases of firefighters being exposed to increased amounts of asbestos involves a day that our nation will never forget: September 11, 2001. Immediately after the attack on the World Trade Center, first responders quickly rushed into the scene, many of whom were firefighters, policemen and first-aid workers.
Because asbestos was widely used in the lower stories of the World Trade Center, asbestos fibers quickly became airborne as the towers collapsed. These responders rushed into the scene and remained there throughout the rescue and recovery efforts where large amounts of these toxic fibers were ingested. The hazard came immediately and affected some within very short periods of time.
Beyond the 9/11 attacks, firefighters often face additional dangers, including rescues they perform on a regular basis. Just as the toxic substance was used in large buildings and structures, it was also frequently used to construct homes and offices.
When these structures become inflamed, firemen are at risk if the asbestos gets disturbed and the fibers become airborne. This applies to residential homes and places where the majority of their work is conducted. While they perform their duty to put out the fire, they may very well be inhaling toxic dust.
Recent events have spawned some to look more carefully at the work environment of our servicemen. According to a 2010 news story, dozens of firefighters from Everett, Washington, filed claims against the city seeking $9 million because the city allowed the men to conduct training exercises in buildings with known asbestos-contaminants.
The buildings were owned by the city and therefore were used for training purposes, despite the fact that some officials knew the building contained toxic substances. The firemen and their family were reportedly not suing for cash, but more so for the city to cover lifetime medical expenses related to the monitoring of asbestos-related health issues.
Other unfortunate circumstances where firemen may be at increased risk of asbestos exposure include their daily interaction with their equipment. Asbestos was widely used because of its insulating and heat-resistant properties. For firefighting, these characteristics are extremely useful. Therefore, prior to the discovery of the link between asbestos and cancer, firefighting equipment manufacturers often included asbestos in products like gloves and protective clothing.
During situations where the asbestos in these equipment pieces become disturbed, the fibers again become airborne and toxic to those who inhale it. Unfortunately, through the continuous and physical nature of the job, it is likely that this equipment will become damaged and will therefore potentially cause asbestos fibers to entire the air.
Free Mesothelioma Resources
Get Access to Free Resources for Patients & Loved Ones