Firefighters Receive Lifetime Health Monitoring After Dangerous Asbestos Exposure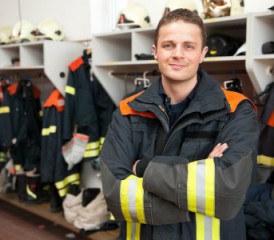 Firefighters in Everett, Washington will receive free medical monitoring for their lifetime as part of a lawsuit settlement with the city, stemming from asbestos exposure during training sessions four years ago.
As part of the settlement announced last week, the city also will be obligated to cover medical expenses up to $750,000 for future health problems related to the asbestos exposure.
The settlement covers 49 firefighters who were working for the city in 2007. Exposure to asbestos can lead to a variety of health problems, including mesothelioma cancer, which has a lengthy latency period.
The firefighters originally filed a multi-million dollar suit against the city in 2010, worried about long-term health issues. Although firefighters often accept the dangers that come with the job, they were upset that training sessions without proper precautions put them at even more serious risk.
"We believe this was a good deal for us, and the city," Paul Gagnon, president of the firefighters union, told the HeraldNet newspaper last week.  "We were waiting for the city to do the right thing."
City officials believe the settlement will save them money and protect them from any future lawsuits. The monitoring program will cost the city an estimated  $15,000  in 2012, according the Everett's chief financial officer. The city also will pay the effected firefighters twice their base pay while getting their first medical exam in the monitoring program.
The original complaint stemmed from five days of training in July 2007 when the firefighters were working in soon-to-be-demolished, city-owned houses that were known to contain asbestos.
The crews were not wearing their self-contained breathing gear they normally would be wearing during actual fires. A consultant hired by the state later concluded that the asbestos exposure was serious enough to endanger those in the training.
Experts believe that no amount of asbestos exposure is safe.
Firefighting is one of the occupations that is known for exposing workers to the dangerous asbestos fibers. Asbestos, a naturally occurring mineral, was once was highly regarded for its heat resistance, insulating properties and durability. It was used extensively in both commercial and residential construction into the 1980s.
Earlier last week, firefighters in Lackawanna, New York  were complaining about asbestos exposure in Fire House 3, concerned with the abatement work being done in the older building.
In Everett, the city discontinued the training sessions in the asbestos-laced home. Crews now are required to wear their breathing devices when doing drills where asbestos is suspected. The firefighters also are being trained to avoid asbestos and other airborne risks.
The city also sounded pleased with the settlement that will help it avoid paying out much larger sums.
"It's a fair and equitable settlement," Debra Bryant, chief financial officer told HeraldNet.

Free Mesothelioma Resources
Get Access to Free Resources for Patients & Loved Ones
Get Help Now
2 Cited Article Sources