Research & Clinical Trials
Clinical Treatment CBP501 Receives FDA Orphan Drug Designation for Mesothelioma
Fact Checked
Our fact-checking process begins with a thorough review of all sources to ensure they are high quality. Then we cross-check the facts with original medical or scientific reports published by those sources, or we validate the facts with reputable news organizations, medical and scientific experts and other health experts. Each page includes all sources for full transparency.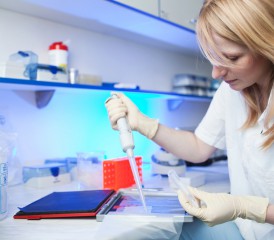 A new treatment for mesothelioma, known as CBP501, received an Orphan Drug Designation from the Food & Drug Administration, reports CanBas Co., Ltd., maker of the treatment.
CBP501 is being tested as a treatment for various respiratory conditions, including mesothelioma, by the Japan-based biopharmaceutical company. According to the FDA's designation, the treatment is allowed "for use in combination with Cisplatin and pemetrexed for treatment of patients with mesothelioma."
Approval of the Phase II drug came on January 5.
Mesothelioma is the rare cancer of the lining of the lungs that is causes by asbestos exposure. The disease has been known to affect between 2,000 and 3,000 people annually. CBP501 provides a glimmer of hope for those who are plagued with this disease.
Dr. Takumi Kawabe, the company's co-founder and CEO, appears optimistic about the opportunity that this designation provides for the future of the treatment as well as the future of the company.
"We are pleased to have obtained Orphan drug designation for CBP501," Kawabe said. "Our 63-patient randomized multi-national Phase II trial in the first-line treatment of MPM achieved full enrollment in October 2011 and will be completed during the first half of 2012. Orphan drug incentives will help CanBas and potential pharmaceutical company partner(s) advance CBP501 into Phase III studies for this devastating malignancy."
Hope Through CBP501
The CBP501 treatment is the company's lead product. It is defined as a 'novel synthetic peptide that enhances the efficacy of Cisplatin when administered in combination. It is used in combination with cisplatin for first-line treatment for patients who have non-small cell lung cancer or mesothelioma. Within CanBas's clinical testing, CBP501 works to assist in the repairing of DNA damage.
The United States is one country among others where the company is conducting its Phase II clinical trials. For patients who have already tried other forms of treatment, you may already be familiar with Cisplatin.
It is among the most common forms of chemotherapy regimens for mesothelioma. As a combined treatment, CBP501 will work alongside these current drugs to hopefully provide a treatment that changes the landscape of mesothelioma care.
The company striving for this benchmark treatment is one that appears to be stable and ready for growth. CanBas is a publicly traded company on the Tokyo Stock Exchange. It labels itself as a "clinical-stage biopharmaceutical company" by focusing solely on discovering and developing drugs that target the cell cycle. With the company's newly attained Orphan Drug Designation, the development of CBP501 is now better structured to help the treatment get to market.
Understanding the Orphan Drug Designation
What CanBas has achieved through this designation is not very common. The Orphan Drug Designation, or ODD, is part of a program established by the FDA to help advance the development of foods, devices, drugs and biologics that show promise for diagnosing or treating rare conditions or diseases.
Because drugs, treatments and medical devices are commonly manufactured by pharmaceutical companies or for-profit multinationals, product development is often lead by market size or market potential. Drugs are developed when companies see huge market sizes and the potential to earn enormous and long-term profits. Mesothelioma only affects a few thousand people per year, yielding a fairly small market size. Through the ODD, the FDA provides incentives to companies like CanBas to develop drugs and treatments for these rare diseases that would normally not be pursued. Such incentives include tax credit and marketing benefits.
Now, CanBas will be able to focus on developing their CBP501 mesothelioma treatment while receiving these incentives for doing so. According to the FDA's website, over 350 drugs and products are credited for being developed under the program since 1983.
During the 10 years prior, less than 10 products came to the market. The ODD label provides benefits to treatments and drugs for diseases and conditions that affect less than 200,000 people in the United States. Many debilitating and fatal diseases like mesothelioma fall under this umbrella.
Connect with a Mesothelioma Doctor
Find a Top Specialist Near You