ADAO Will Honor Steve McQueen at 8th Annual Convention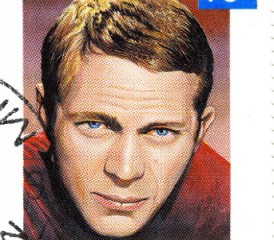 Actor Steve McQueen, one of several well-known Americans who have died from mesothelioma, will be honored posthumously by the Asbestos Disease Awareness Organization at its eighth annual convention in March.
McQueen's widow, Barbara McQueen, will accept the Warren Zevon Tribute Award in her husband's honor March 31 in Manhattan Beach, Calif. McQueen died in 1980 at the age of 50.
McQueen, known as the King of Cool for the way he lived both on and off the movie set, was a classic American success story, overcoming a poor, broken- home upbringing to become a Hollywood superstar.
Before he died, McQueen traced his mesothelioma diagnosis to asbestos exposure first in the Marine Corp, then to the flame-retardant driving suits he wore so often while racing cars and motorcycles, his lifelong passion.
Although the use of asbestos has been dramatically reduced in recent decades, an estimated 3,000 Americans still are diagnosed each year with mesothelioma, which has a latency period of up to 50 years.
Mesothelioma Strikes Famous People, Too
McQueen is just one of many notable Americans who have died from the disease.  Although it is most often associated with blue-collar professions and military service, mesothelioma has touched all walks of life, including the rich and the famous.
Pro Football Hall of Famer and broadcaster Merlin Olsen died from mesothelioma in 2010 when he was 70.  Olympic gold medalist Terry McCann (wrestling, 1960) died in 2006. White House Chief of Staff Hamilton Jordan died in 2008.
Actor Paul Gleason (2006), Congressman Bruce Vento (2000), scientist Stephen Gould (2002) and Navy Admiral Elmo Zumwalt, Jr. (2000) also are on the list.
Warren Zevon, a singer-songwriter with a cult-like following, died in 2003. Son Jordan Zevon became a spokesperson for the Asbestos Disease Awareness Organization (ADAO), which now honors someone annually with the Warren Zevon Keep Me in Your Heart Memorial Tribute.
"I am extremely honored to pay tribute to Steve McQueen," Jordan said in the press release announcing the award. "Mesothelioma is a tragic disease more common than most people know, and it is important to recognize Steve's spirit, and later plight, in order to both cherish his memory and increase asbestos awareness."
Convention To Honor Many
The ADAO, founded in 2004, is the leading victims' advocates group in the United States. Its eighth annual convention has been designated as Asbestos: An International Public Health Crisis, set for March 30-April 1 in Manhattan Beach, California.
The convention will bring together medical professionals, researchers, asbestos victims, families and advocates for a weekend of education and collaboration, all working toward raising awareness and eventually a worldwide ban on asbestos.
Also being honored is U.S. Representative Steve Cohen (D-Tennessee) for his work toward legislation to ban asbestos; Drs. Arthur Frank and Richard Lemen for their work in raising awareness; and Joel Shufro from the New York City Occupational Safety and Health Department for his efforts to protect workers from asbestos exposure.
"Steve McQueen is an American legend, and we are extremely honored to recognize him in Warren Zevon's name," said Linda Reinstein, ADAO co-founder and CEO. "Not only did Steve McQueen, like Warren Zevon, lose his battle against mesothelioma, but they both shared a passion for fearlessly taking a stance."
The ADAO is working with the Canadian Voices of Asbestos Victims (CVAV) on the North American Declaration to Eliminate Asbestos Diseases, which is urging both President Barack Obama and Prime Minister Stephen Harper to collaborate on a ban.
Although both countries restrict the use of asbestos, neither has joined the group of 50 countries worldwide that have banned it completely.
1 Cited Article Sources
Asbestos Disease Awareness Organization. (2012, January 12). Actor Steve McQueen, Beloved Husband of Barbara McQueen, Honored Posthumously with the Warren Zevon "Keep Me in Your Heart" Memorial Tribute Award. Retrieved from: http://www.asbestosdiseaseawareness.org/archives/9069