Legislation & Litigation
Trial Starts for Men Accused of Illegally Removing Asbestos from Salvage Site
Fact Checked
Our fact-checking process begins with a thorough review of all sources to ensure they are high quality. Then we cross-check the facts with original medical or scientific reports published by those sources, or we validate the facts with reputable news organizations, medical and scientific experts and other health experts. Each page includes all sources for full transparency.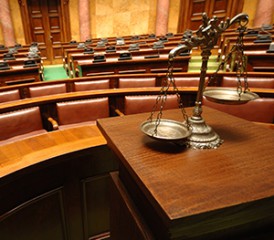 The trial of three men accused of illegally removing asbestos from a salvage site has finally begun, six years since officials say the incident occurred.
An 11-count federal indictment charges that David Wood, Donald Fillers and James Mathis violated the Clean Air Act by performing asbestos abatement without having the proper procedures and precautions in place, potentially endangering many people in the process.
The men are accused of using day laborers, homeless men and others to remove asbestos from a salvage site without training them or providing them with protective equipment.
Asbestos was widely used in the construction industry for its insulating and fire-proofing functions, but the federal government has stated that no amount of exposure is safe. The toxic substance has been known to cause fatal disease like mesothelioma, a cancer that claims the lives of approximately 3,000 people a year in the United States.
James Wint was one of the men hired to remove asbestos from the property, according the indictment. Living nearly a block away from the salvage site, Wint said he was offered an opportunity to work and clean up the site a few days a week. He was not provided with protective clothing during the abatement and may face future health issues as a result.
Federal regulators say the men did not remove asbestos materials correctly, noting that the asbestos was disposed of without proper containment methods such as wetting the toxic materials. Court documents state that the men had asbestos-containing materials "thrown out windows" and "pushed into open piles." This drastically increases the risk of asbestos exposure to local residents.
Wood and Mathis face five years in prison and up to $250,000 in fines if convicted. Fillers could be looking at 20 years if he is convicted of an obstruction of justice charge.
The attorney for one of the men stated that "any blame for the lack of oversight or misinformation should rest with the Hamilton Country Air Pollution Control Board," the entity that issued the permit. Pollution control officers have declined to comment on the matter because they are serving as federal witnesses in the case.
Community advocates are working to inform residents in the area of the potential dangers from this incident.
Their testimonies are scheduled to continue on January 17th, in the U.S. District Court in Chattanooga.
Asbestos Abatement Done Correctly
The removal of such a toxic material is something that should always be done carefully and correctly. Based on the allegations, Woods, Filler and Mathis clearly conducted asbestos abatement in the absolute wrong manner. As they are likely to face convictions for their crimes, other citizens who may live in or own properties that contain asbestos should learn the proper way of dealing with it.
Asbestos abatement is a three step process, involving the identification, testing and removal of the material. Identifying asbestos can be difficult because of the relative size of asbestos fibers. However, you can use multiple factors to evaluate whether or it is likely asbestos or not.
Statistics show that if your home or building was constructed before the 1980s, it likely contains some form of asbestos. Because it was used in thousands of materials, you should begin by looking at the materials that are most likely to contain it, including attic insulation, pipes and boilers. If you can identify the manufacturer of the materials in your home, you can determine whether they have been known to use asbestos in their products as well.
Testing for asbestos can also be a challenge and typically involves the work of professionals. Before doing anything, consider a rule of thumb that has been used in the abatement industry: In cases where the ceiling, floor, walls and pipes are in good condition, one of the best things to do is to leave them undisturbed.
Asbestos only becomes dangerous when their fibers are disturbed and are released into the air, where they then can be inhaled or ingested. By attempting to remove asbestos from places where it is not yet disturbed, you may be making the situation worse.
If your home is not in great condition and you would like to continue with the testing process, the first thing that you should do is to contact a licensed asbestos inspector. It is widely recommended that you do not attempt to perform testing on your own.Your local health department likely has information on its website that can assist with finding asbestos abatement companies.
Once you find a company that you are comfortable working with, allow them to properly remove the asbestos from your property. This process requires the use of special gear and equipment that contains the toxic asbestos in safe methods to transport it and dispose it at the proper locations. When the asbestos is finally removed, be sure to maintain a clean living or working space. Don't knowingly allow any more asbestos-containing materials in your home from this point on.
Access Trust Funds, Grants & Compensation for Mesothelioma
Get Financial Assistance