Roshi Chadha Resigns from Red Cross Board Because of Asbestos Industry Ties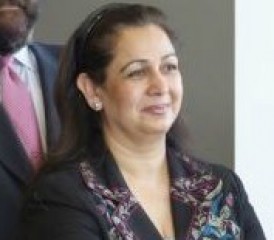 Roshi Chadha, a corporate executive in the business of asbestos exportation, today resigned from the board of directors at the Canadian Red Cross, three days after receiving a vote of confidence from the organization's leaders.
Her sudden resignation stemmed from efforts made primarily by the the Canadian Voices of Asbestos Victims (CVAV), which had been lobbying for her dismissal.
"This is wonderful news, just wonderful," Stacy Cattran, one of the co-founders of CVAV told the Mesothelioma Center. "This is a real victory for the cause. Unfortunately, we haven't had enough of them in the past in Canada. There have been too many rejections. This is very empowering, knowing our voices can be heard. It's inspiring."
Chadha is an executive with Seja Trade, an exporting company and a subsidiary of Balcorp, Ltd., which is lobbying the Canadian government for a $58 million loan guarantee to reopen an asbestos mine in Quebec. She also is married to Balcorp president Baljit Chadha.
Asbestos is the mineral that causes mesothelioma cancer.
Roshi served on the board of directors since 2008. Her term was to expire in June.
On Friday, before the three-day Red Cross Board of Directors meeting was scheduled to begin, the Red Cross issued a statement in her support:
"The Canadian Red Cross announced today (Friday) that Ms. Roshi Chadha, a valued member of its National Board of Governors will complete her term, ending in June, 2012. In accordance with the by-laws of the Canadian Red Cross, members of its National Board of Governors are elected or re-elected through a nomination process that culminates with a vote by eligible volunteers from across the country as part of its Annual General Meeting in June."
The statement was sent on behalf of Sam Schwisberg, general counsel and corporate secretary of the Canadian Red Cross.
By Sunday, though, Chadha had informed other board members that she would resign. By todaythe Canadian Red Cross had removed her name from the list of Board of Directors on its web site, leaving only a hint of what had transpired.
"After the Jan. 13-15 meeting of the National Board of Governors, two Governors have resigned from the Board due to governance issues," is what it said under the list of current Board members.
Also leaving suddenly this weekend from the Board was Peter Robinson, CEO of the Suzuki Foundation, an environmental group that had been critical of the asbestos industry. Speculation is that Robinson resigned because of the organization's earlier support of Chadha, which had come just hours before the entire board was scheduled to discuss the issue.
Although the use of asbestos has been dramatically reduced in Canada in recent decades, the exportation to developing countries continued until the last few months of 2011 when the last two remaining mines were closed. Chadha and her husband have been lobbying to re-open one of the mines to resume the exportation.
The Canadian Red Cross is considered one of the world's leading humanitarian organizations, providing much-needed disaster relief both at home and abroad, often to developing countries where the asbestos has been shipped.
The inclusion of Chadha on the board had infuriated the growing anti-asbestos faction in Canada, and an obvious conflict of interest. Chadha also is a board member with the St. Mary's Hospital and McGill University in Canada, which is where the anti-asbestos lobby will move next.
---
Tim Povtak is an award-winning writer with more than 30 years of reporting national and international news. His specialty is interviewing top mesothelioma specialists and researchers, reporting the latest news at mesothelioma cancer centers and talking with survivors and caregivers.